Hosting is an essential part of a successful blog.
Why?
All of your pages, posts, videos, images, words and letters are housed and delivered to the world via your hosting company. In addition to being your blogs home…
Your hosting company determines the speed of your website!
No one likes waiting for a site to load but more important than this, website speed is now a ranking factor for Google.
So, if your website doesn't load quickly, people will leave and Google is less likely to rank your content.
What do you do if you don't have the cash for the fastest premium hosting?
You choose the fastest and cheapest WordPress hosting for your blog which is what you will learn how to do in today's post.
We tested the least expensive hosting options for you!
Here's what we discovered:
Which Cheap WordPress Hosting is Best?
There are a lot more hosting companies out there than the three finalists here.
But these three are the best cheap WordPress hosting companies:
A2 Hosting, as low as $2.99 per month
HostGator, as low as $2.75 per month (cheapest!)
SiteGround, as low as $5.99 per month
Here's a quick summary of how to choose which hosting service is best for you.
If you want a plug and play WordPress website or blog where everything is done for you including WordPress installation, security and website speed optimization plugins already installed, mom-and-pop customer service instead of a corporation for $2.99 a month, A2 is your best option.
If you're a seasoned blogger, know how to install WordPress and want a hosting company that offers high-traffic servers for a reasonable price then HostGator is perfect for you.
If you want an ambitious hosting company that installs WordPress and website speed optimization plugins for you, connects your website to Cloudflare (a CDN that makes your site go even FASTER!), and receive great customer service then your first choice will be Siteground.
Which Hosting Company Is the Best Bang for the Buck?
While all three hosting companies are good options, the cheapest and fastest option is A2 hosting.
And the best part?
They're one of the most affordable hosting on this list, and they offer great speed and load time:
Here's the speed we are receiving with our blog that is testing A2!
Look: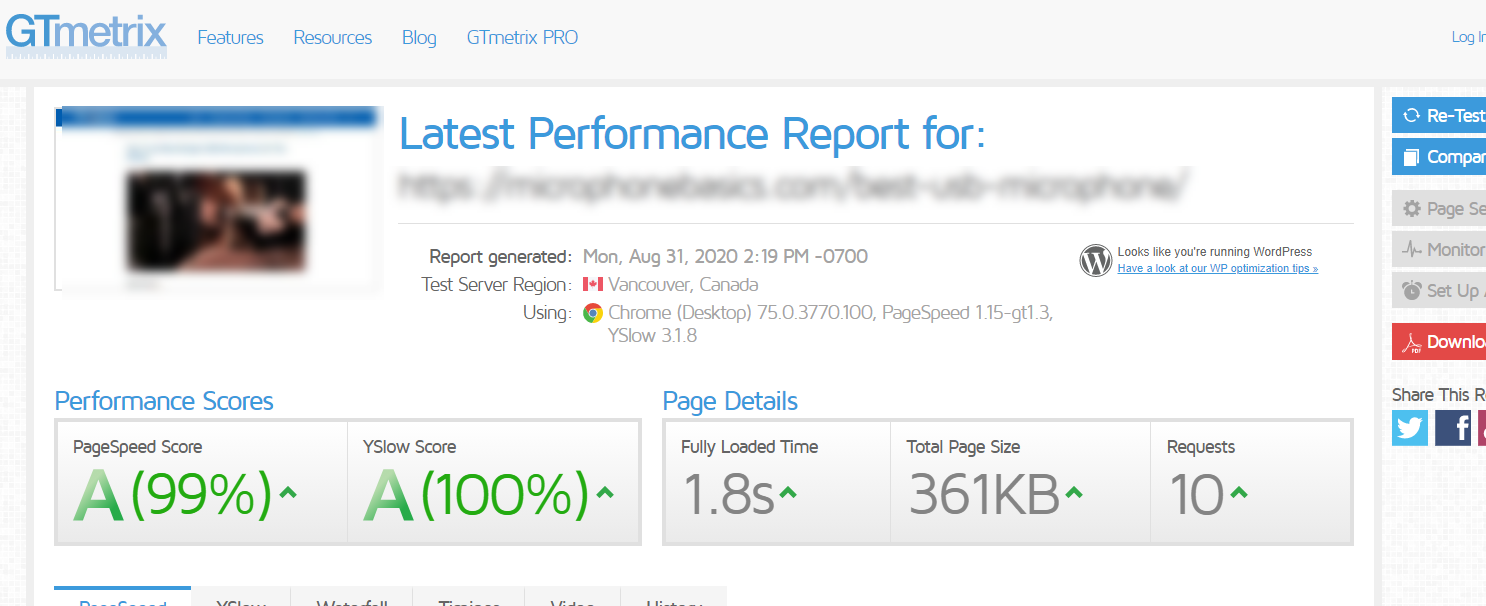 You can't go wrong with $2.99 per month and less than 2 second load time…
SiteGround has slightly faster loading times than A2, but A2 is the clear winner when you compare their prices.
Click here to have A2 setup your WordPress site for super cheap!
Here's the breakdown:
#1: A2 – The Best Bang for the Buck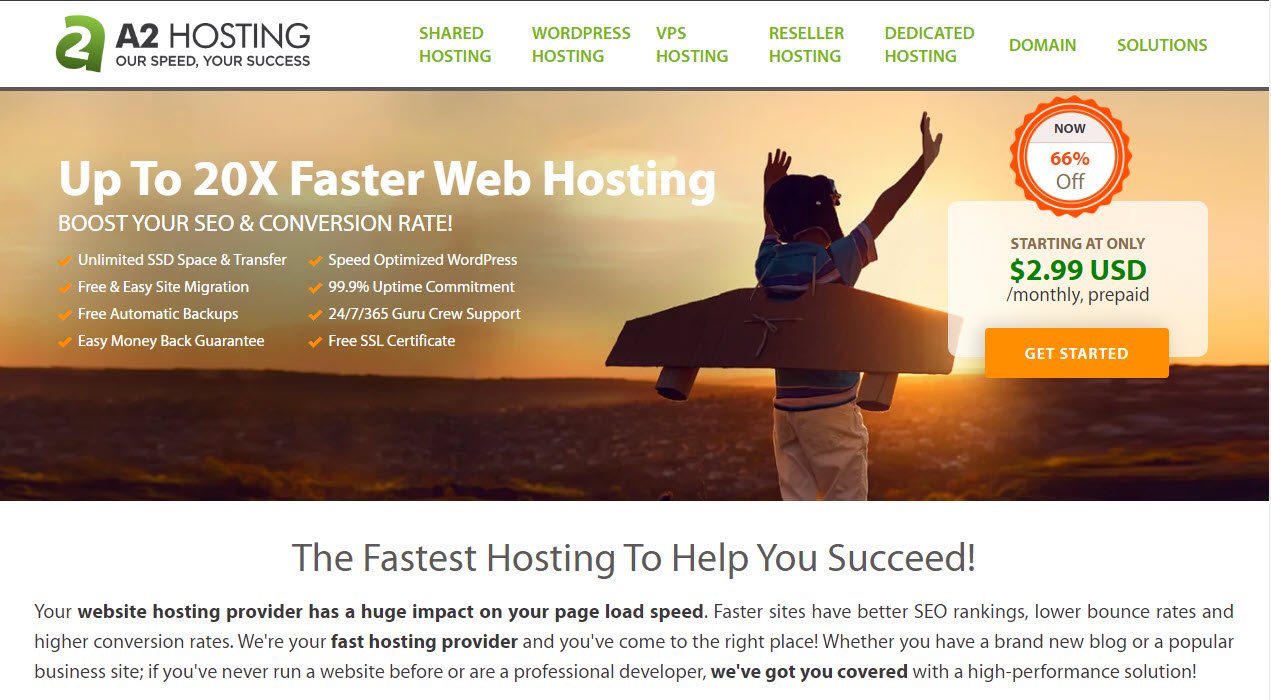 A2 is an independently owned company that was founded in 2001. They were one of the first players in the hosting industry.
They specialize in hosting for all sorts of different platforms:
WordPress
Linux
Windows
Joomla
Drupal
etc.
They are known for their speed and excellent uptime score, which is always vital for running a successful blog.
Another thing that sets them apart is:
They own all of their web servers exclusively, instead of renting the space as so many other hosting companies do.
You might be thinking to yourself:
Well, that's great, but why is that important for me?
The answer is simple:
It ensures that their servers are high powered, reliable, and monitored by their team 24/7, which ensures their fast speed and uptime.
Features
A2 offers quite a broad array of different features and plans:
So, whether you're a beginner blogger or a more advanced one, you can find a solution that best fits your needs.
Plans and Pricing
When it comes to simple WordPress hosting, A2 has four different plans:
Startup – the cheapest starting at $2.99 per month
Drive – the middle one starting at $4.99 per month
Turbo Boost – the most popular starting at $9.99 per month
Turbo Max – the most expensive and advanced, starting at $14.99 per month
As you can see, you can start a blog for as little as $2.99 a month.
Their Startup plan, which is the most basic one of all, is more than enough for a new blogger, and it won't break the bank!
Each plan has different features, but all plans share one feature:
Free and Easy site migration is included in every plan. Even the one for $2.99 a month.
Also, each plan has a free SSL certificate, which is important for your website security. But sadly, A2 doesn't offer a free domain name with any of their plans.
Take a look at all the plans and their features compared: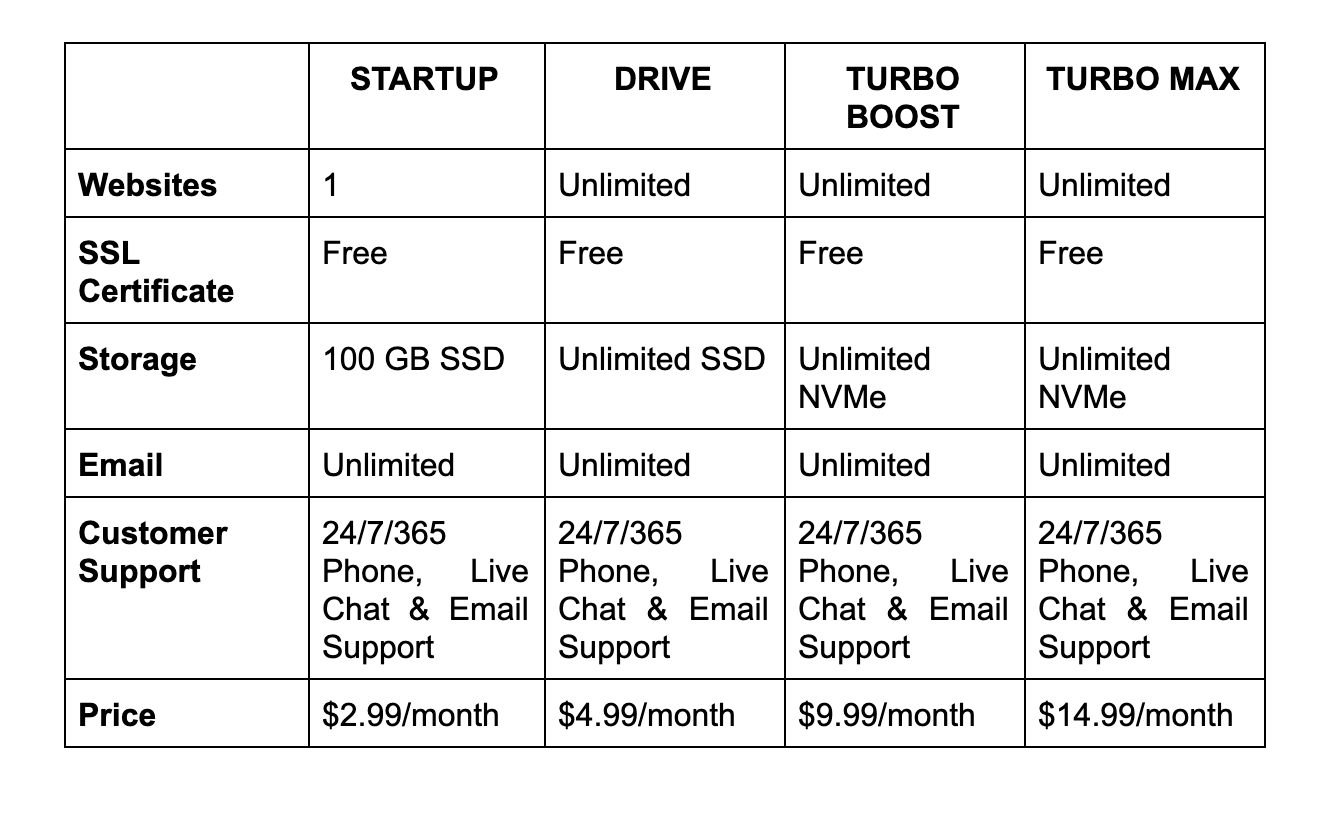 Performance
Now, let's talk about the performance and my experience with A2 hosting.
The speed of one of our blogs on A2 is pretty amazing.
Even with the security plugins installed (which can take away quite a lot of speed from your blog), the blog loads in less than 2 seconds.
Just take a look at the speed test we did: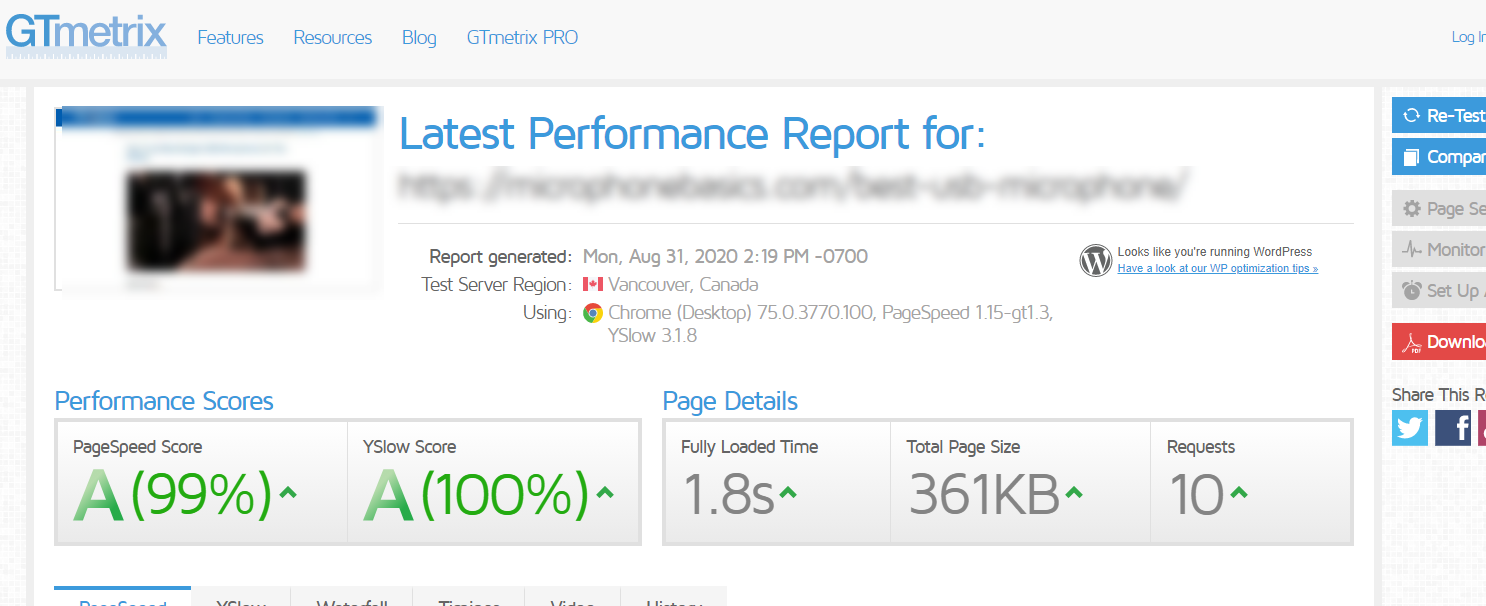 If you're looking for speed and a reasonable price, you can't go wrong with getting super inexpensive hosting from A2!
#2: SiteGround – The Fastest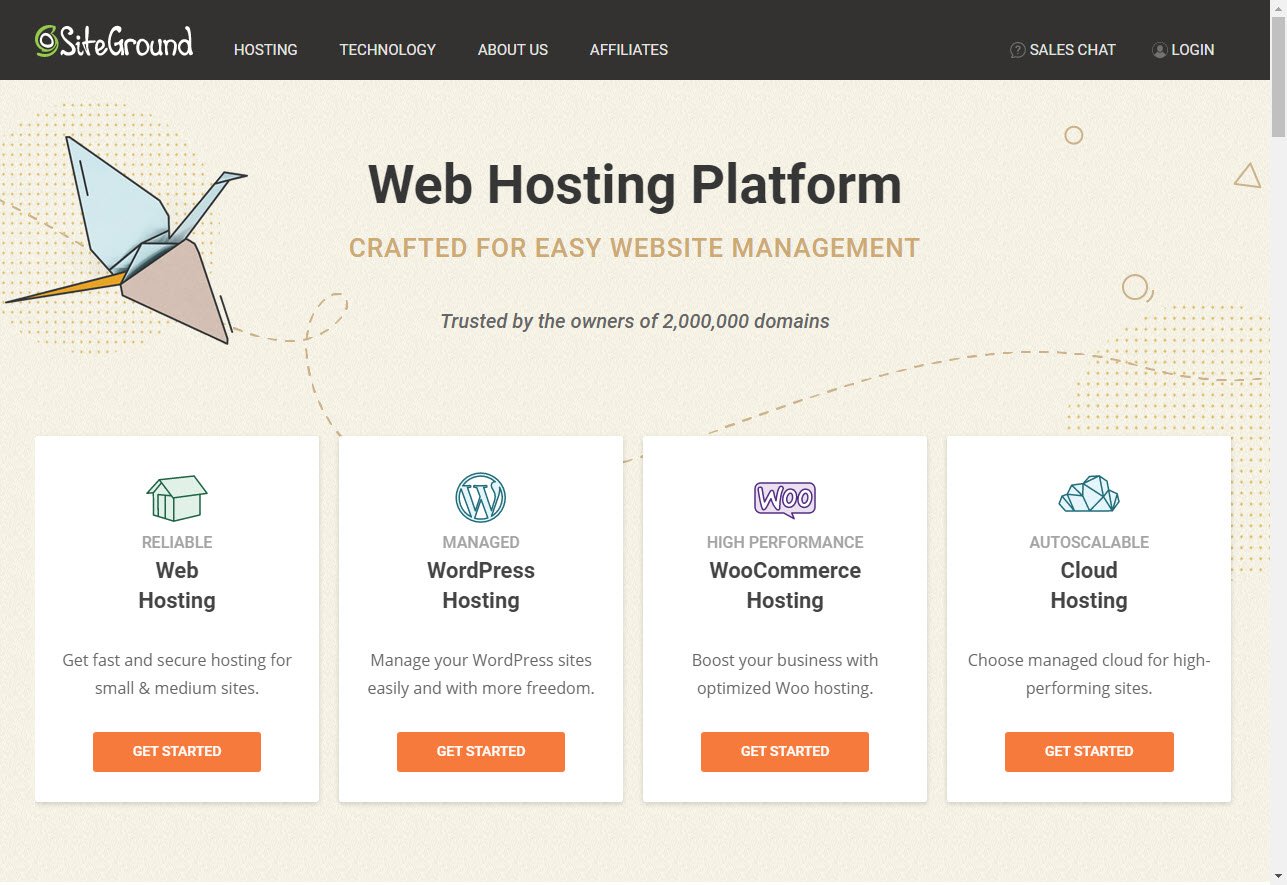 SiteGround is another excellent affordable and fast hosting company that's been getting more attention from bloggers.
It's a Europe-based hosting company founded in 2004, and they have offices and data centers worldwide.
They have data centers in Asia, the USA, Europe, and Australia, and one of the things that they're known for is their website uptime of 99.9%.
It's all due to their super-well monitored servers and security.
So, if your primary concern is the uptime of your blog, SiteGround might be a great option.
Features
As with all the other hosting companies on my list, SiteGround offers a wide array of different features and solutions:
Web Hosting
WordPress Hosting
Shared Hosting
WooCommerce Hosting
Cloud Hosting
Reseller Hosting
Enterprise Hosting
Domain Transfer and Registration
Website Building and Migration
24/7 Support Via Phone, Live Chat, And Helpdesk
etc.
On their website, SiteGround claims that there are over 2 million website owners who trust their services.
Also:
SiteGround is one of a few hosting companies that is officially recommended by WordPress.org.
And, they have a 'WordPress SuperCacher' feature which implements the caching for your blog on multiple levels, and it increases faster loading times.
Plans And Pricing
SiteGround has three WordPress hosting plans:
StartUp – the basic plan starting at $5.99/month
GrowBig – the most popular plan, starting at $9.99/month
GoGeek – the advanced plan, starting at $13.99/month
As you can see, SiteGround is not the cheapest hosting on this list.
However, I have a tip for you:
You can easily save money on SiteGround hosting with their annual sales.
They do them a few times a year, so you have to keep your eyes open for when they come around.
But one guaranteed sale that happens every year is during Black Friday week.
During Black Friday, SiteGround offers massive discounts on their hosting plans. So I recommend you wait and snatch the plan during the sale.
You can save up to 50%, which can add up real quick.
SiteGround has a unique WP Migration system which allows you to migrate your existing website to SiteGround with the help of their plugin.
It's excellent and doesn't require lots of coding knowledge.
They also offer a paid migration service, which costs around $25, and professionals transfer your website for you.
This professional migration feature was offered with their GrowBig and GoGeek plans before, but they decided to remove it and offer the migration with the plugin for all plans instead.
Siteground doesn't offer a free domain name for its customers, but all plans include a free SSL certificate which is great.
Let's compare each plan more in-depth: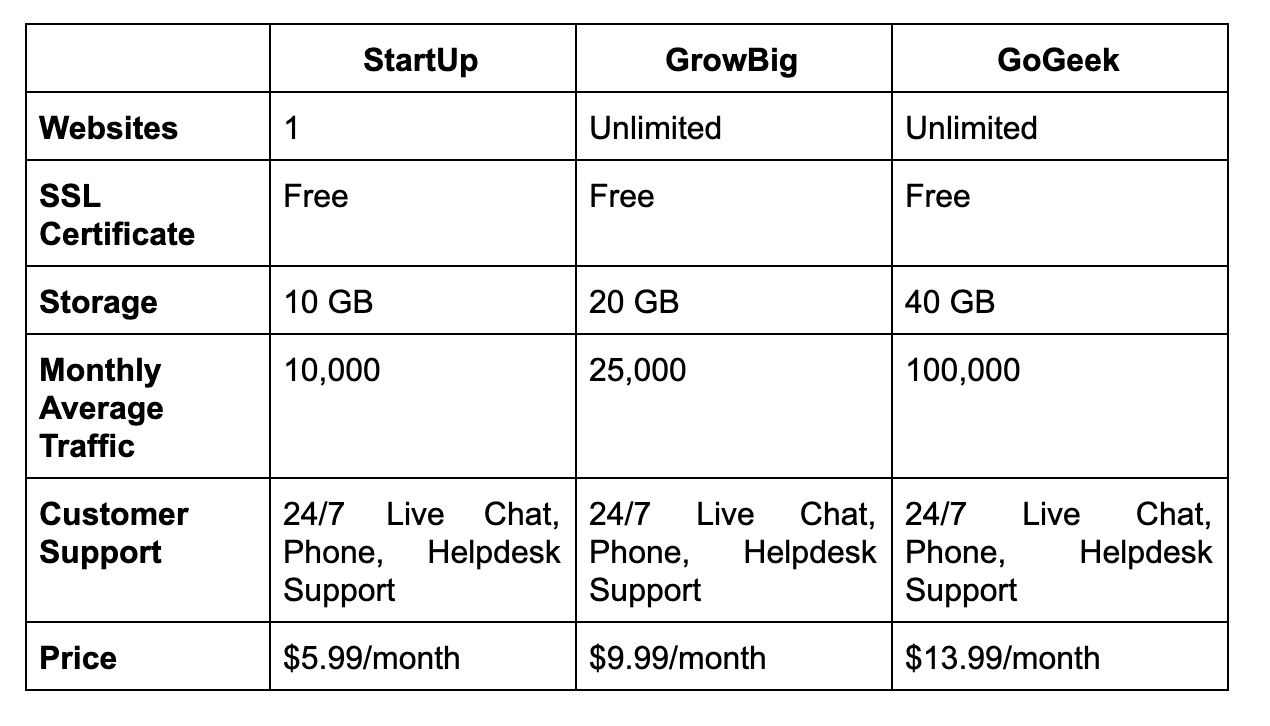 Performance
When it comes to performance and the quality of SiteGround loading, you can't really beat it: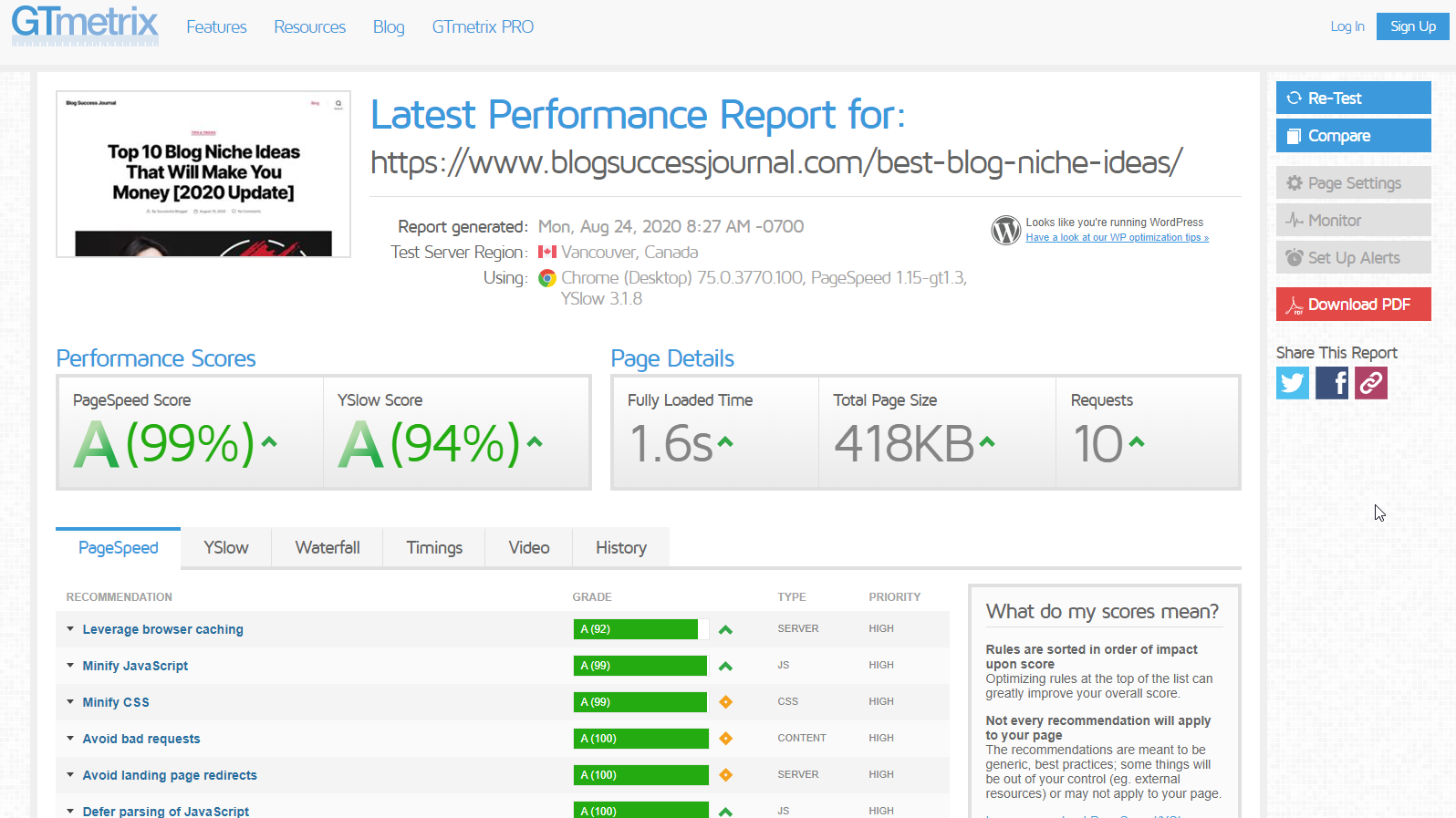 It has an impressive loading time.
I was also very impressed by their customer support and how great they were at solving the issue I had with my website transfer when I used it.
I think that if you don't mind paying a bit extra and want extra speedy loading time and excellent customer support, SiteGround might be for you.
#3: HostGator – The Cheapest for High Traffic Sites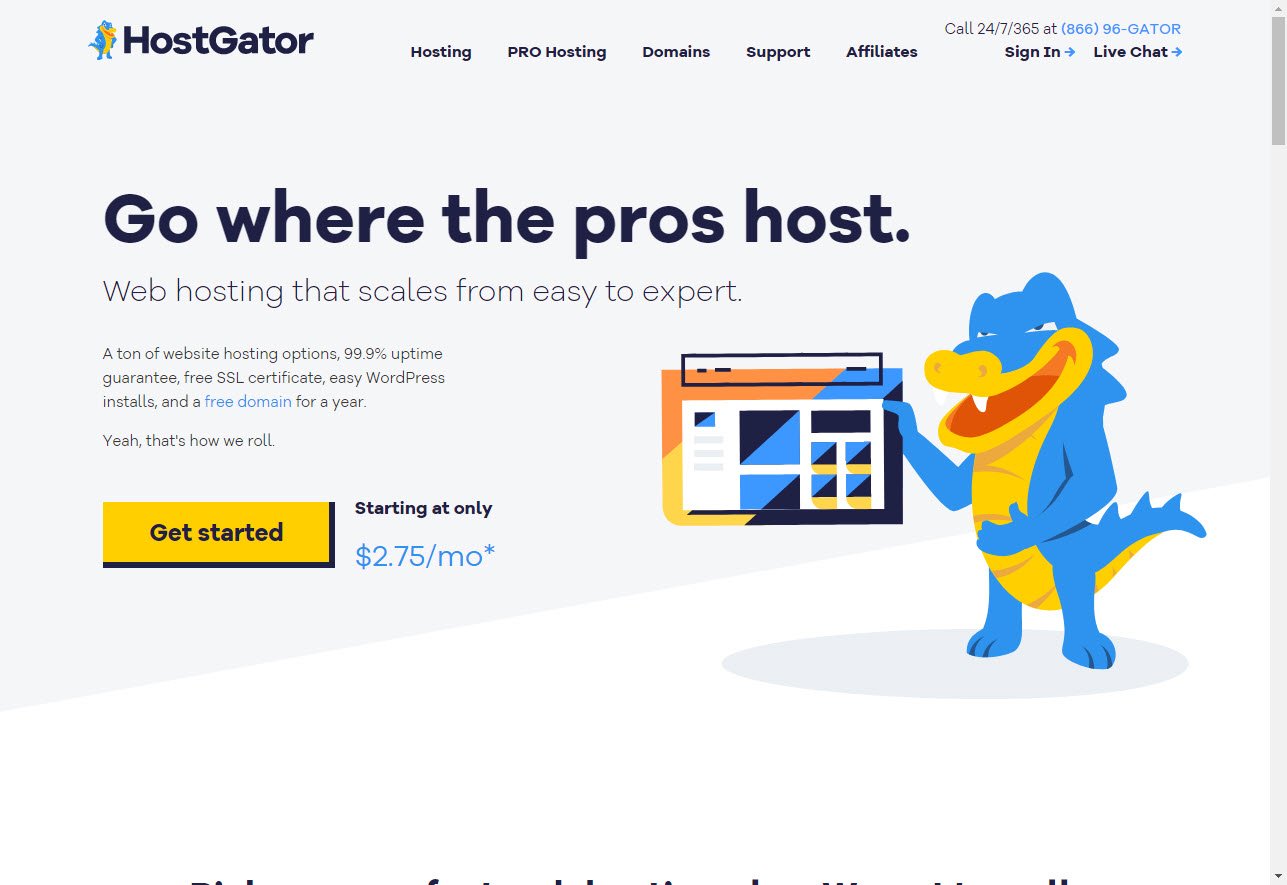 HostGator is another very popular and affordable website hosting company that offers a lot of features.
It was founded in 2002 so has been around for more than a decade.
HostGator was awarded the "best hosting for business" by WP Beginner in 2016 and has won some other awards.
Features
HostGator offers a wide variety of different features to their customers:
Shared Hosting
Managed WordPress Hosting
Web Hosting
Website Builder
WordPress Hosting
Dedicated Hosting
VPS Hosting
Reseller Hosting
Registering and Transferring Domains
24/7 Support via Live Chat and Phone
etc.
Plans and Pricing
For their WordPress hosting, HostGator has three plans to offer:
Starter Plan – the most basic starting at $5.95 per month
Standard Plan – the most popular, starting at $7.65 per month
Business Plan – the advanced plan, starting at $9.95 per month
All plans offer free site migration, and you also get one domain name free for the first year. All plans also include a free SSL certificate.
I always like it when hosting companies offer free migration, as it can be challenging for bloggers to manage it themselves.
HostGator also claims that they have 2.5X faster loading times and excellent website performance as they have low-density servers.
Let's compare all plans together: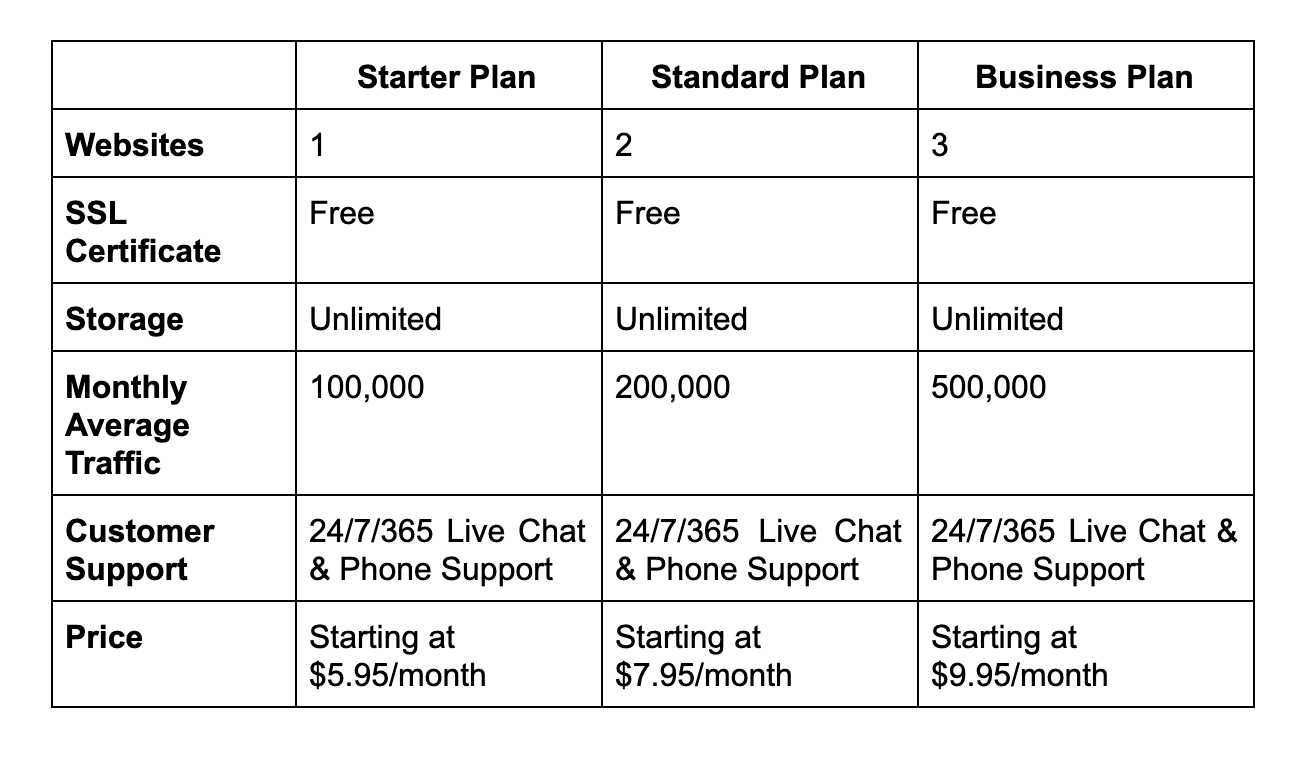 Performance
When we tried HostGator, I have to be honest with you:
There were a few issues with customer service.
HostGator has 24/7/365 customer service for all of their plans. And there are several ways to contact them.
Even so, we had an issue when we were trying to log into WordPress. So we contacted the support team, and their reply was speedy.
However:
Even though they responded quickly, the issue was never resolved. We waited five days!
In the end, we decided to switch to another cheap WordPress hosting. And their support team resolved the issue for us in a heartbeat.
The point is:
This experience with HostGator was pretty disappointing, especially since HostGator is not the cheapest company on this list.
But, if you're a seasoned blogger, know how to install WordPress, and want a hosting company that offers high-traffic servers for a reasonable price, then HostGator may be right for you.
Conclusion
Last but not least:
It's great that all three hosting companies offer free SSL certificates and live chat customer support options.
With this information, you'll be able to choose the best affordable hosting option for you.
If you're a new blogger looking for something fast and cheap, A2 hosting will likely be your best option.
HostGator will be the option for seasoned bloggers with lots of traffic who want to save money.
It can hold up to 500,000 monthly pageviews with their most expensive plan. And it only costs $10/month.
Trust me; it's a bargain!
In addition, HostGator is the only one of the three that offers a free domain name for the first year.
SiteGround is an excellent hosting company for bloggers who want good quality service if you don't mind a slightly higher price.
If you still can't decide, write the three names on their own post it note and throw a dart at it!
Better always to take "imperfect" action than continually research!
Any blog is better than no blog.