How to Find Blog Keywords Fast With 11 Free Tools
You probably know what you're planning to write about. Right?
Maybe.
But what if you could steer a blog post or article in the right direction from the beginning? Without having to go back and plug in random keywords after?
That's what these free tools will help you do. By using them, you can create a running list of keywords to focus on for each and every article.
No more guesswork! No more trial and error to see which posts will gain readers!
Now you're thinking, that's great, but…
How do I know which tool is best for me?
Here are 11 free blog keyword tools (plus a bonus!) to help jumpstart your keyword research with zero investment:
Wordtracker Scout
Keyword Surfer
Google Trends
Keyworddit
Answer the Public
Google AdWords Keyword Planner
Keyword Tool
Keyword Tool Dominator
Soovle
QuestionDB
Keyword Sheeter
Bonus!: Bulk Keyword Generator for location-specific keywords.
Let's dive in.
To pull keywords fast, Wordtracker Scout is worth an in-depth look.
Wordtracker Scout is a free Chrome extension. With a click of the mouse, any webpage becomes a keyword generator while doing relevant searches.
Which means…
You can start creating a list of topics you want to write about. If you do this on the regular, you'll never run out of blog post topics!
Not only that…
But doing this ensures your article is keyword ready from the start. This helps people find your article easily because you already know what they're looking for. AND you are writing an article specifically for them!
So how does it work?
Let's use Google to search for the topic "backlinks".
We'll take the first organic webpage from the search results.
Click the extension, and you'll see a myriad of keywords listed on Page Summary.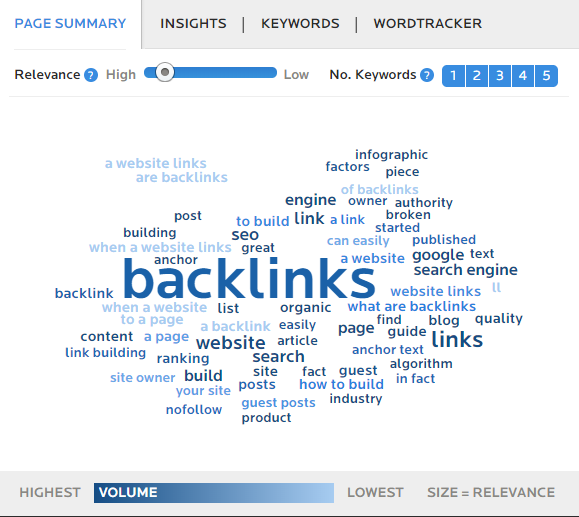 Look at the top and you'll see other tabs: Insights and Keywords.
Don't worry about the Wordtracker tab. That's a paid feature. We want the free stuff.
Insights provides you a summary of what the page is about.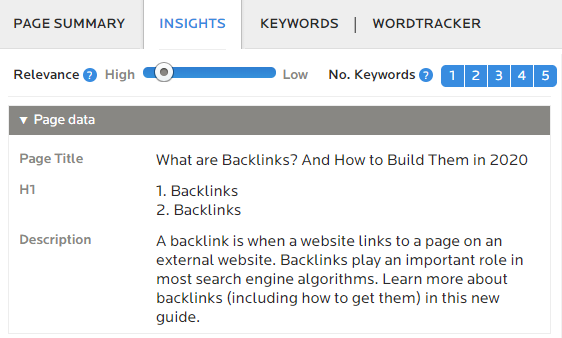 The Keywords tab lists on-page keywords along with other metrics: searches, competition, and opportunity.
Beneath the tab is the relevance score. This tells you how important the webpage is to the keyword. The higher the score, the more relevant the keyword.
Beside the relevance score, you can choose No. Keywords. This allows you to narrow the keywords based on length. For example, if you click 1, 2, 3… Wordtracker Scout will exclude all one-worded keywords, two-word keywords, and so on.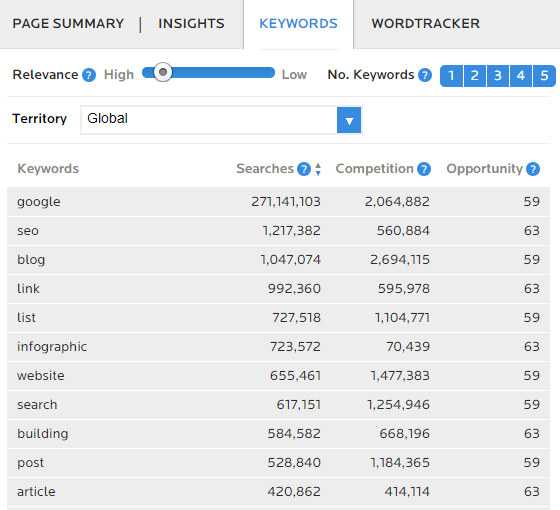 This tool can save you so much time in research, and it's all wrapped up in a little free package. This is one of my favorite free SEO tools to use.
Now let's look at another one…
Keyword Surfer is a free Google Chrome extension. It analyzes global search volume from over 70 countries.

Some of these countries include the United States, United Kingdom, Germany, Canada, and Australia.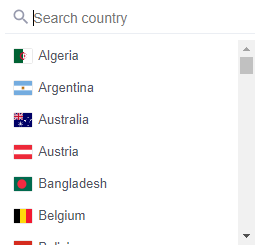 It only takes two clicks to install.
After entering a topic in Google's search engine, you'll see a list of Keywords ideas. You'll also see a correlation chart with Traffic, Words, and Keywords data.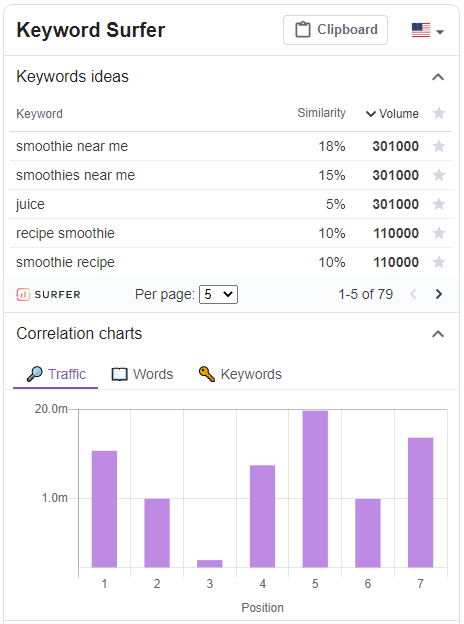 The axis of the graph (numbers 1-8) represents the first eight organic search results on Google.
Hover your cursor over the bar to view data.
Traffic shows you monthly incoming traffic.
Words will show you the exact amount of words on each webpage.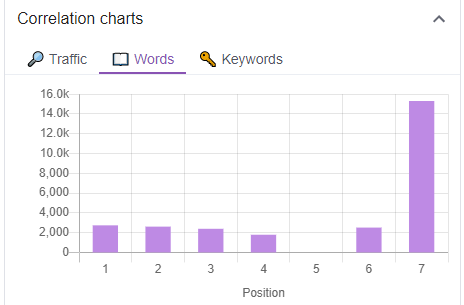 Keywords will depict the number of keywords found on the webpage.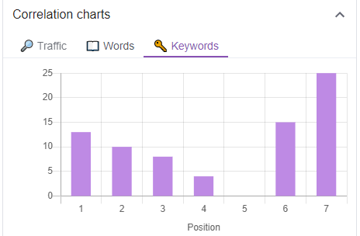 Keyword Surfer is one of my favorite SEO tools because it allows me to assess keywords metrics without jumping between tabs.
Google Trends can help identify seasonal trends and search volume.
How useful is this for keyword research?
Well, it can easily help you plan and create content throughout the year.
Let's assume you're a holistic health company, and you want to publish an article on dieting. All you have to do is search for the seeded keyword "diet".

You'll see a historical chart that displays the search volume of the keyword diet over 12 months.

Looking at the chart as it is now, it doesn't provide much information. To solve this, let's change the historical time from Past 12 months to Past 5 years.
Let's see what we get now.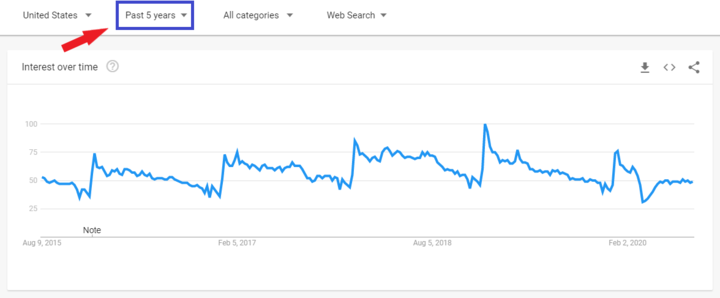 Notice how around December and January there's a spike for the keyword "diet"?
From this, we can infer there's a higher interest in dieting during these months. Probably due to holiday feasting or maybe New Year's Resolutions.
Either way, plan to publish related content 3-6 months before these peaks to get ahead of the bigger competition. During the peak months, you can promote your already-published material, giving it an extra boost at just the right time!
If you're a huge blog or site, you can publish during those peak months only.
But if you're small or just getting started, it's important to give your post time to gain traction. Then you can circle back to it and really push it hard during those critical times.
What else can Google Trends do?
The #1 problem with free and even pricey keyword tools is this:
Every "search volume" is just a best guess! NONE are accurate and none really have a clue.
What do you do? How do you choose "best blenders for smoothies" or "best blenders for protein shakes"?
You use Google Trends.
Here's how:
Using two keywords you found from one of the previous free tools…
Place one of the keywords into Trends and hit search.

Then change the duration of data to 5 years to see the trend.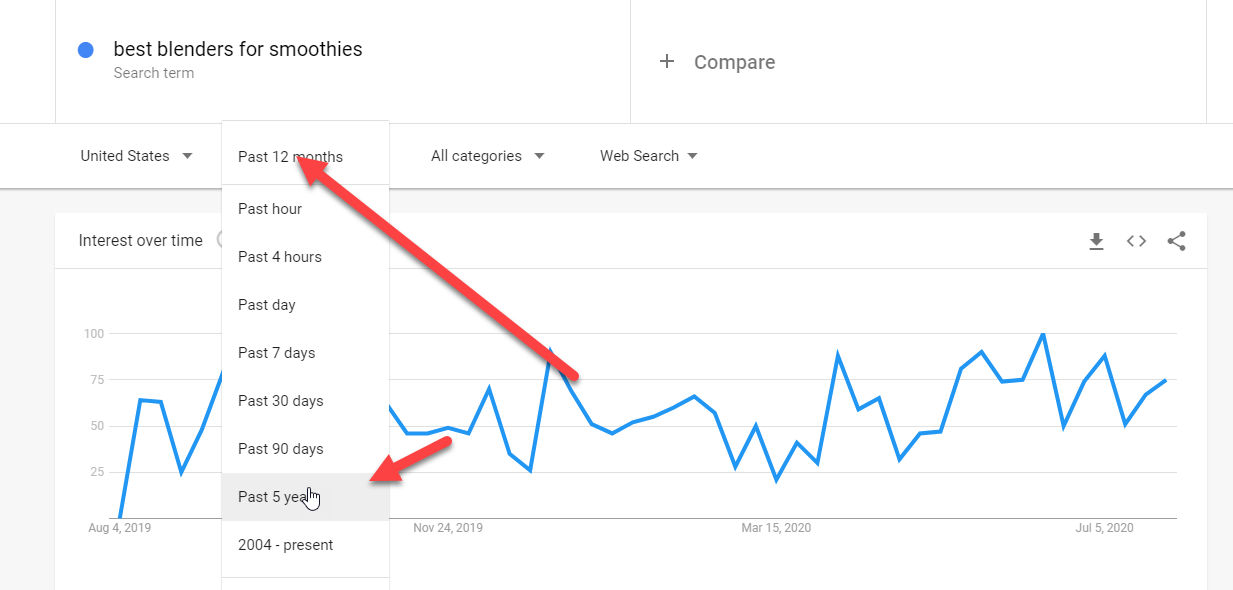 Enter your second keyword, looking at the 5-year data…

and you will now see clearly which one of these two search keyword phrases is searched for more often.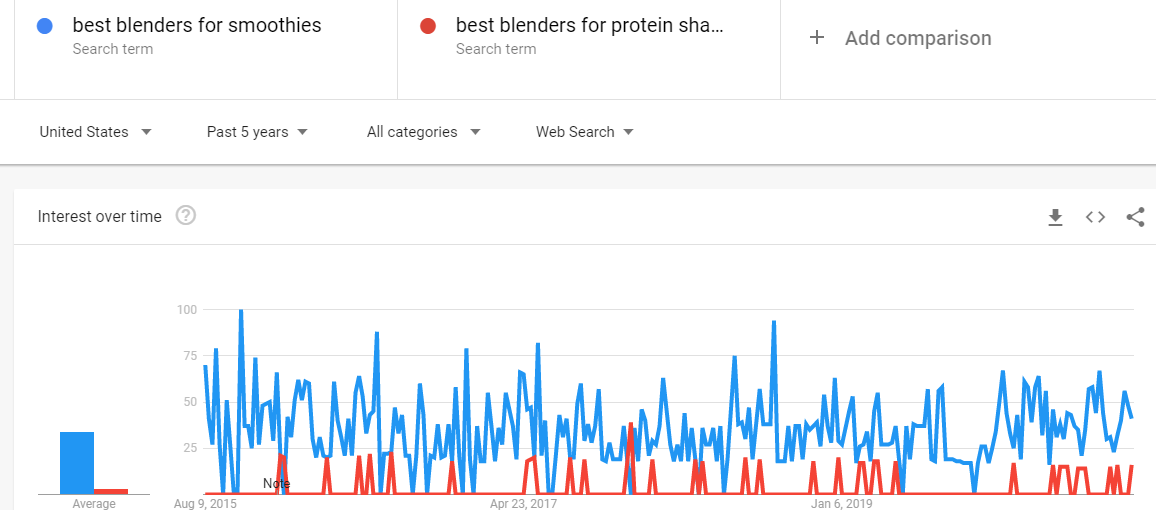 You can add up to five keywords to compare at one time!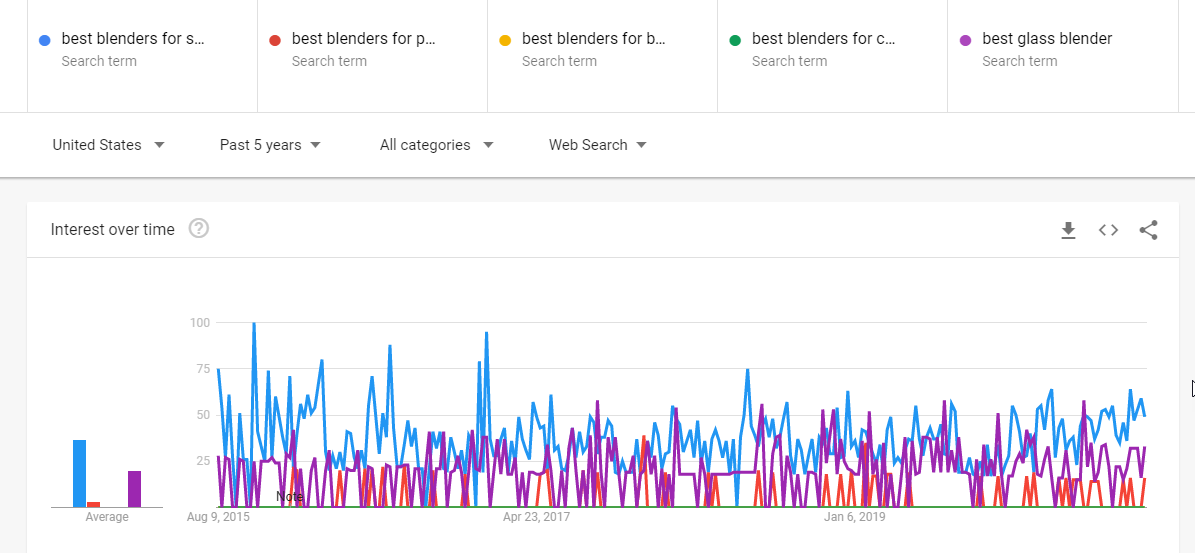 What's next?
Keyworddit is a unique tool that extracts keywords ideas from Reddit.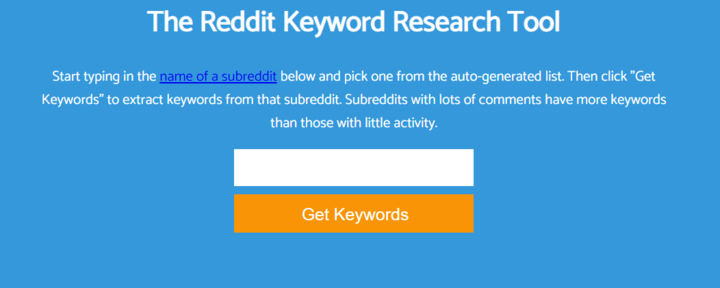 Reddit is one of the most popular sites on the web. Millions of people go there to share and exchange ideas, tips, opinions, and facts.
That's why this tool is good for getting the latest conversations on topics related to your field.
Start by entering the name of a subreddit group like "keto".
A list of Keywords with Monthly Search Volume and Context will appear.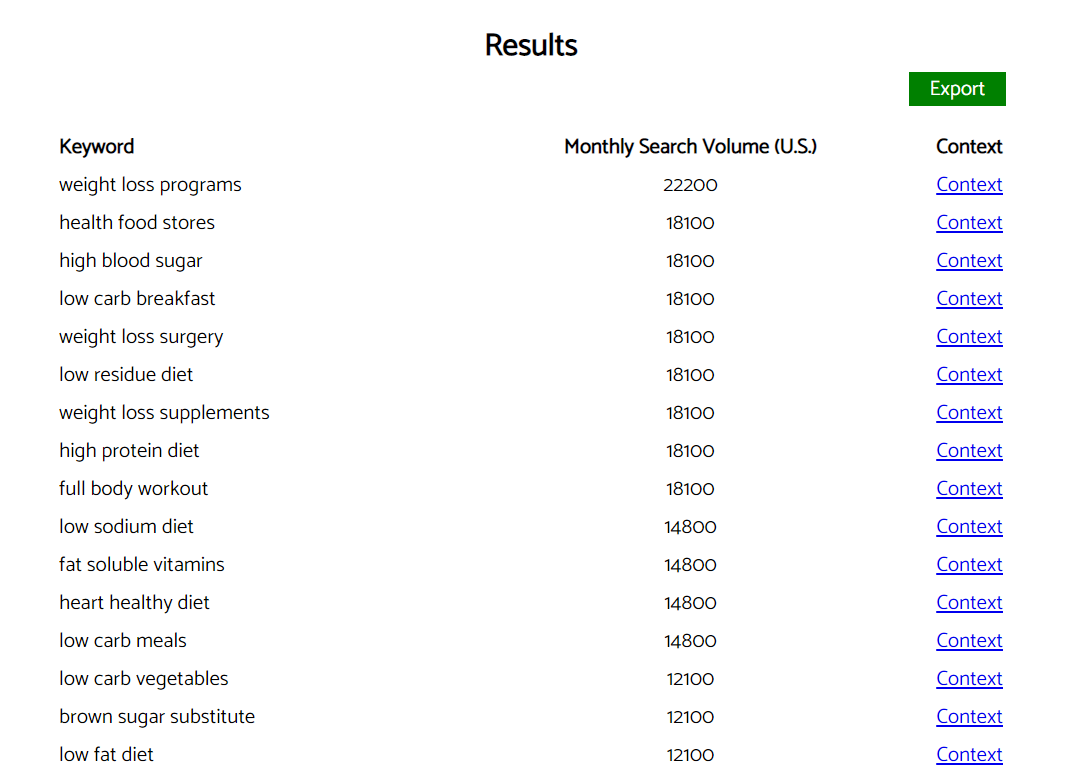 Now you know keto dieters care about things like:
Weight loss programs;
High protein diet;
Full body workout;
Etc.
Monthly Search Volume gives you an idea of the popularity of the topic.
Click the Context link to see the thread where those conversations took place. This can provide you insight on how these terms are being used, which can be helpful for user intent.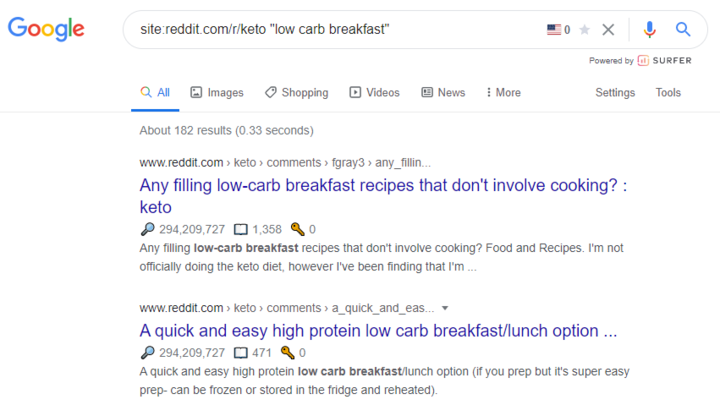 Google Trends and Keyworddit can be used together to find the trendiest, most relevant topics for your articles so your readers know you're on top of your game!
Answer the Public displays keyword research as questions, prepositions, comparisons, and alphabetical.
Need clarification?
Let's address each of those categories.
Enter the keyword seed "chocolate".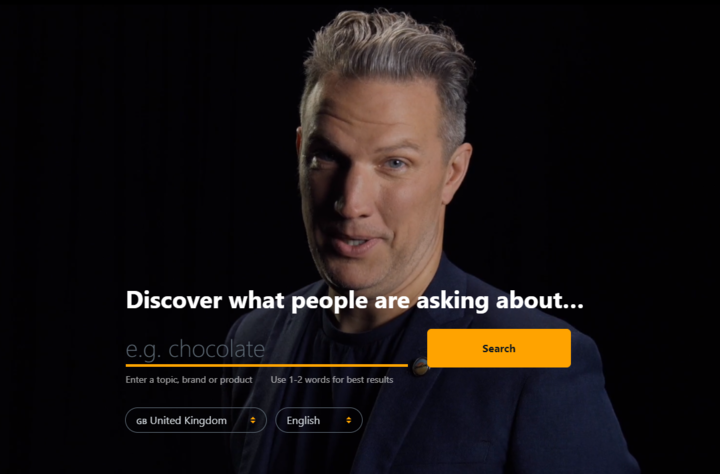 The first results show the most common questions that relate to your keyword.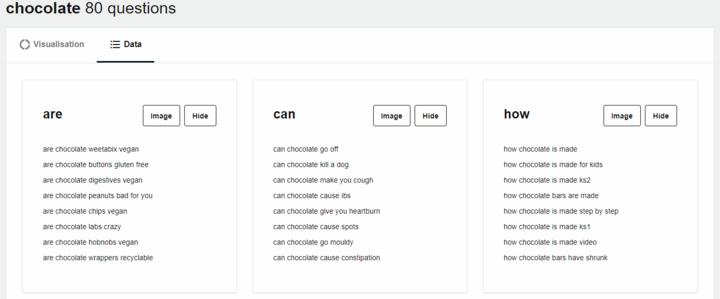 The next set of results you'll see are prepositions.
Prepositions are words that express a relation to another word. Some common prepositions are: can, for, near, to, with, and without.
Examples:
"Chocolate can be eaten."
"Chocolate for dogs"
"Chocolate with caramel"
Next, we have comparisons (i.e., an, like, or, versus, vs).
Examples:
Chocolate versus Vanilla
Chocolate or Strawberry
Chocolate and Beer (Ew, disgusting, but you get the point.)
And finally, we have alphabetical autocomplete suggestions.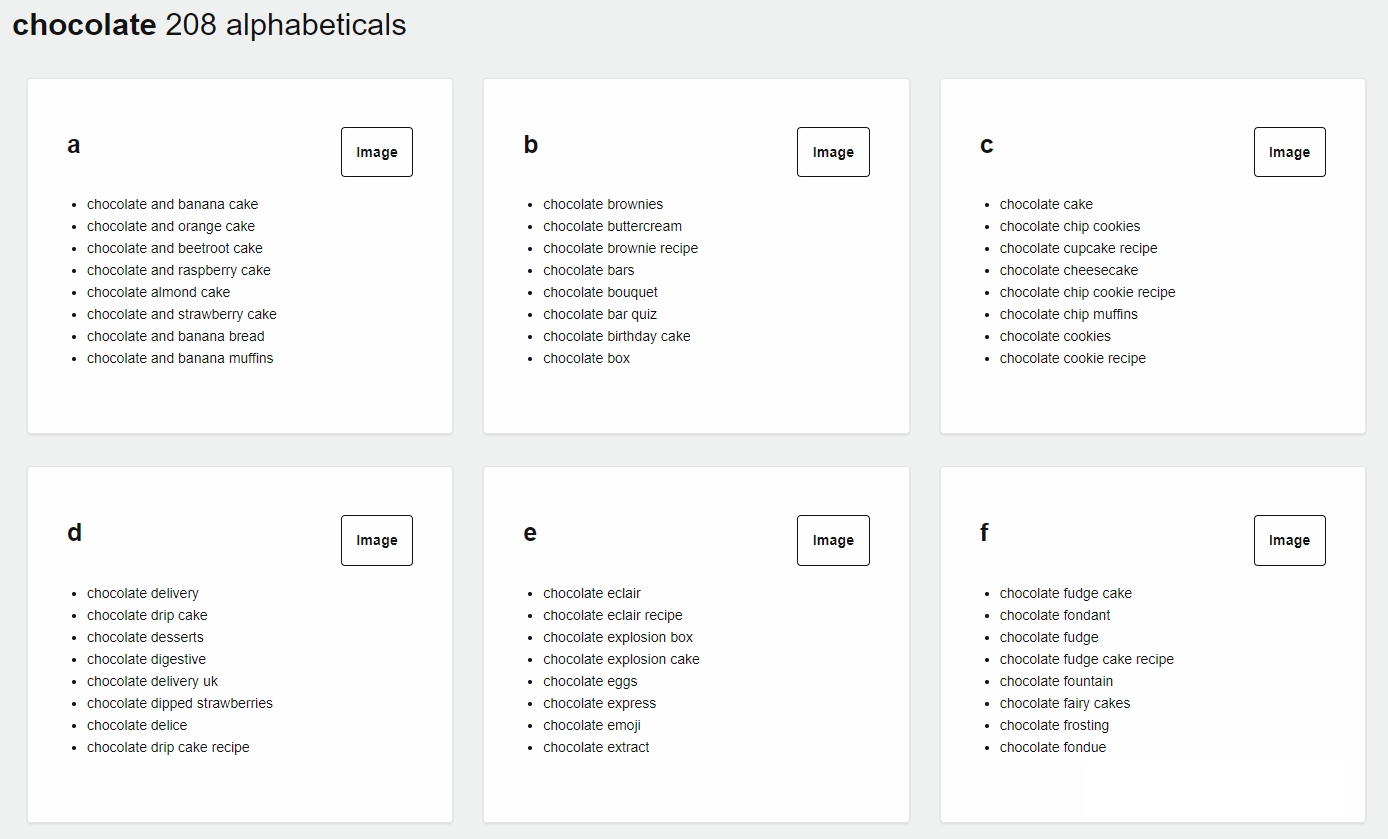 Think of all the topics and articles you can generate from this free tool!
If writer's block ever hits, this is a great tool to get the ideas flowing like melted chocolate. (See what I did there? You're welcome.)
Google AdWords Keyword Planner is a tool that helps you discover keyword ideas and traffic estimates.
This tool is typically for advertisers. Yet, marketers also utilize this platform for SEO research.
Let's give you a rundown of how this thing actually works…
Start with entering keywords "meal delivery," for example.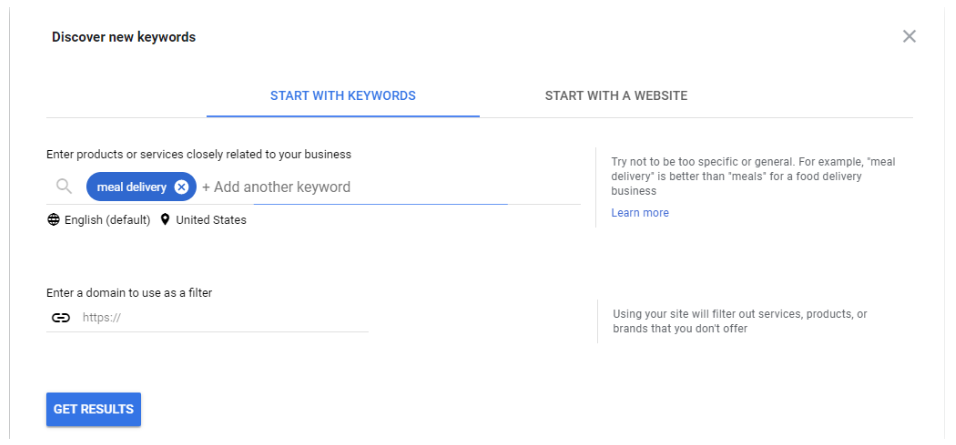 You'll see a list of keywords that relates to your search. Take a look at the Average monthly searches column. You'll see how many people are searching for that exact phrase.
The Competition column ranges from low to medium to high. This represents the difficulty level of ranking for that keyword. Low being the least difficult and high being the most difficult.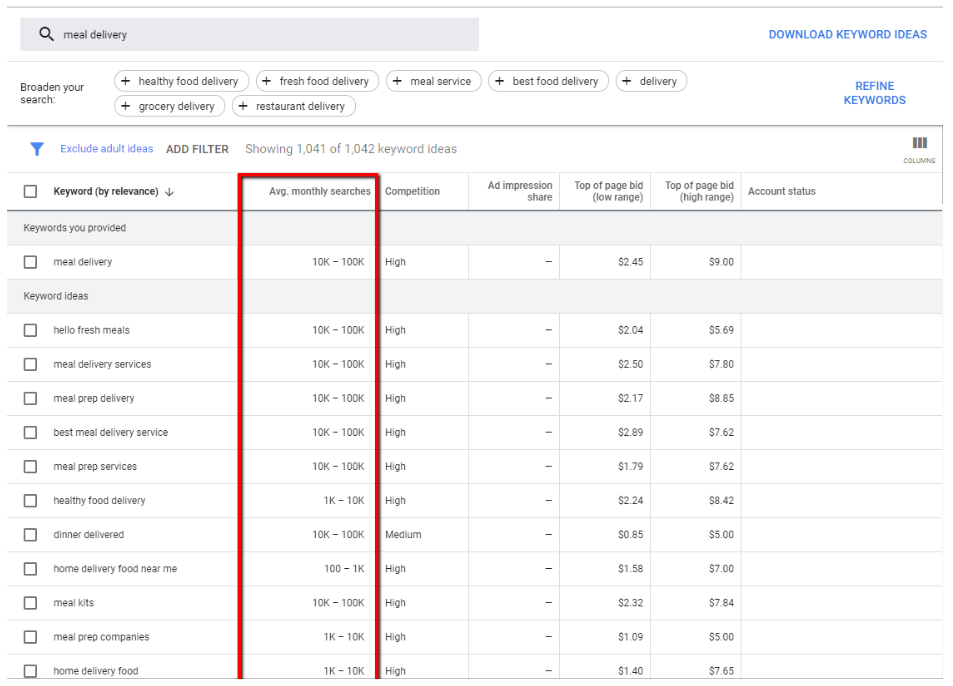 If you want to model keywords from rival websites, go back to the GKP homepage and select START WITH A WEBSITE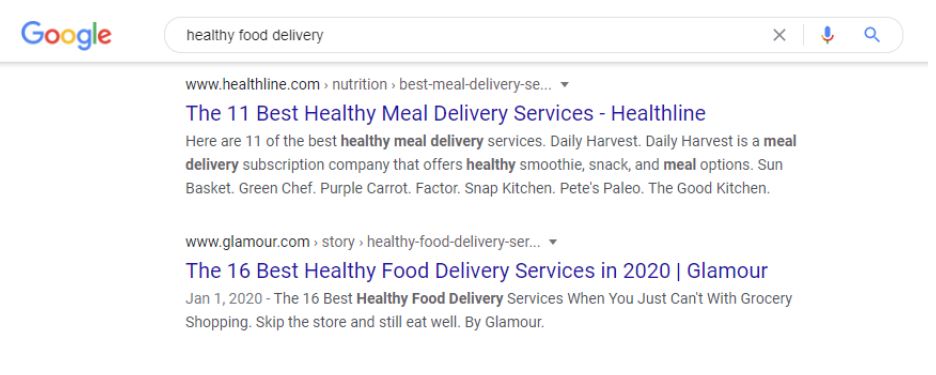 . There you'll be able to copy and paste the URL's filter keywords from other websites or select webpages.
From the results above, let's say we chose "healthy food delivery".
We'll plug in that keyword in Google and select the first organic search result, which is HealthLine.
Click the headline. Copy and paste the URL into Keyword Planner and select use only this page. Then click Get Results.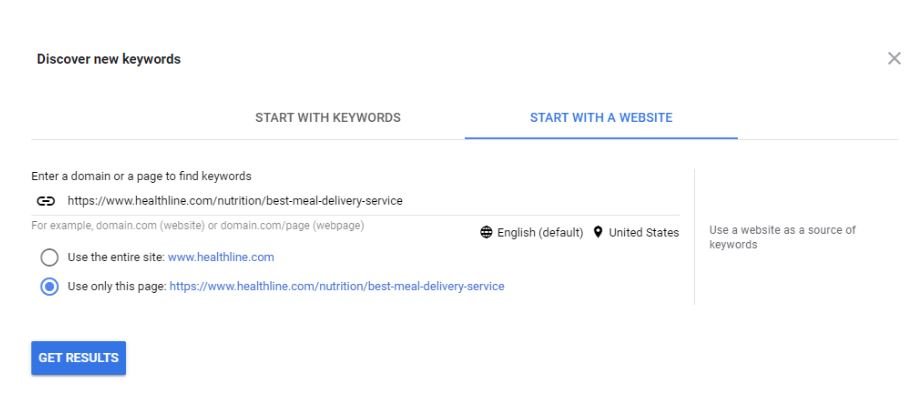 Keyword Tool is a free tool that can generate up to 750+ long-tail keywords for a single topic.
It utilizes Google autocomplete to find and deliver keywords people are searching for.
As you see below, the tabs give you the option to choose between the top search engines people are using.

After entering the seeded keyword, a list of keywords will appear.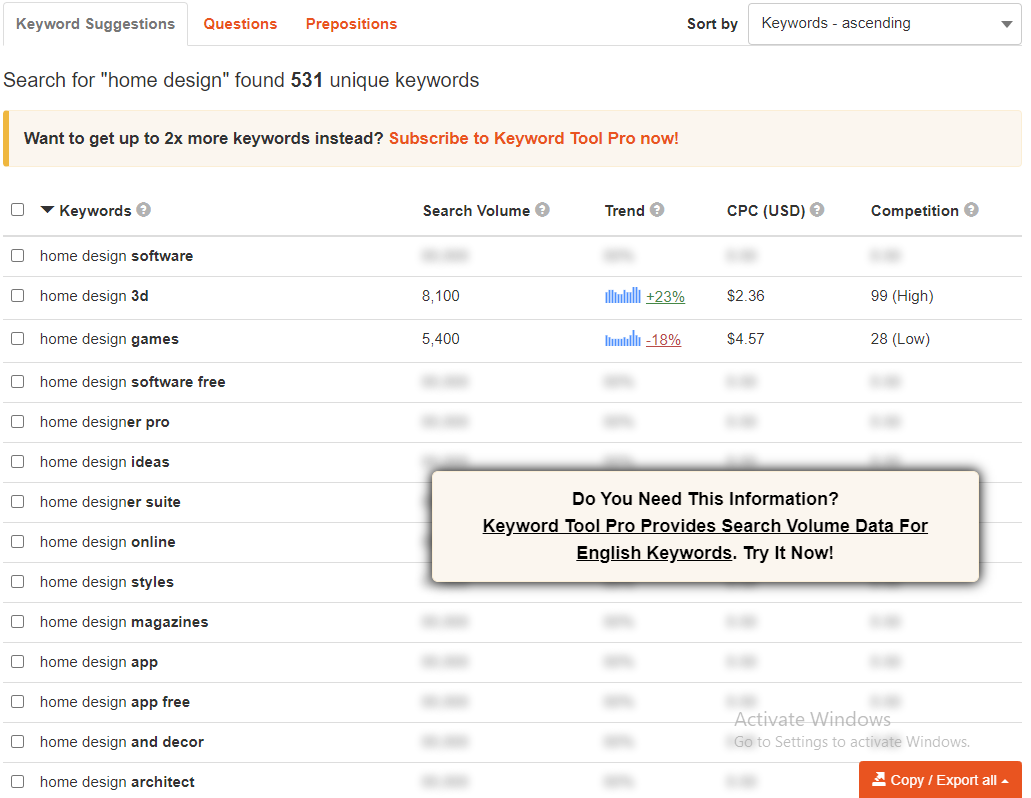 You might have noticed to access the keyword metrics you need the pro version of this software.
But don't you worry.
I've laid out other tools throughout this article that you can use in conjunction since you can at least see the long-tail keywords, which is what we're after here.
Keyword Tool Dominator uses autocomplete data from Google, Amazon, Walmart, Bing, and eBay.
This tool is ideal for finding long-tail keywords.
Enter the target phrase and you'll see a list of keywords with source, country, top 10, and the most notable rank.
Let's take a break from Google and use the Amazon Keyword Tool.
Enter a product name or keyword, select a country, and choose a department.

Rank determines the order of the keywords. Word count and word frequency will determine the rank.
Then you have the popularity scale. 10 is the most popular and 1 is the least popular.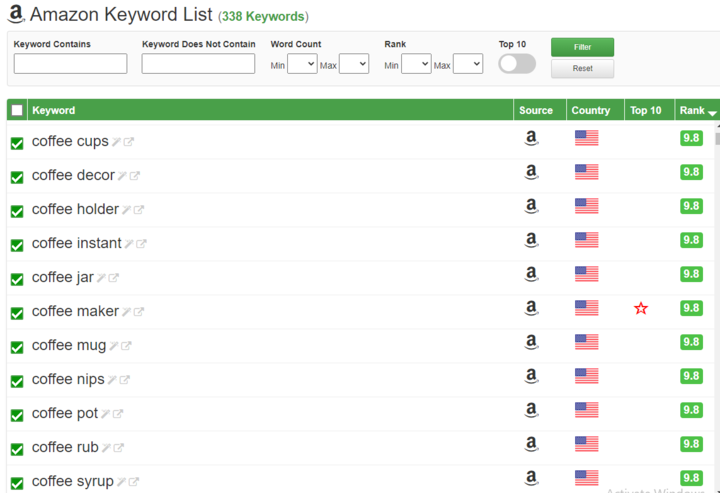 Use the Filter option to narrow down your search.
For example, if you're looking for long-tail keywords, set the word count filter "min" to 5. This will show all keywords that have at least five words.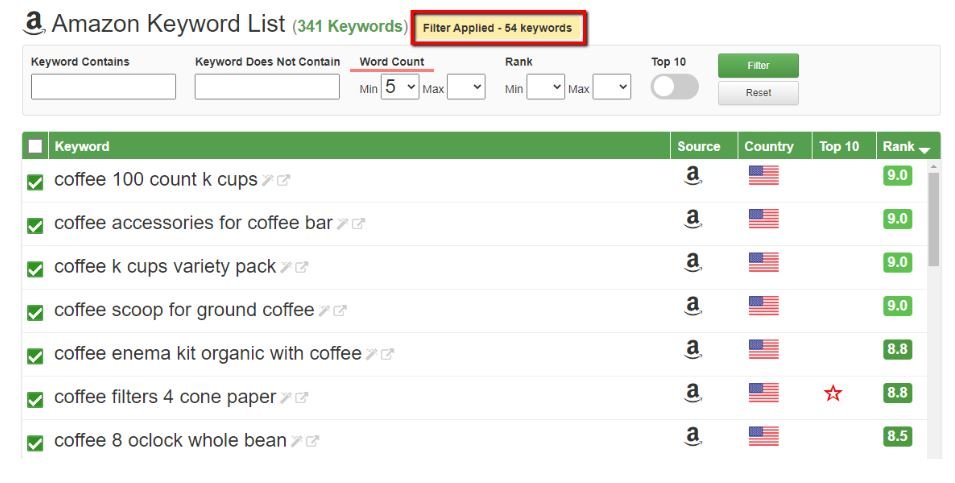 There are other filter options you can explore with this tool. Toy with it until you find what works best for you.
Soovle collects data from more than 15 search engines. Some people call this tool the search engine of search engines.
It's simple, easy to use interface makes it easy to scan concepts and store search results.
Enter a keyword in the search bar, and you'll begin to see results before you finish typing the word.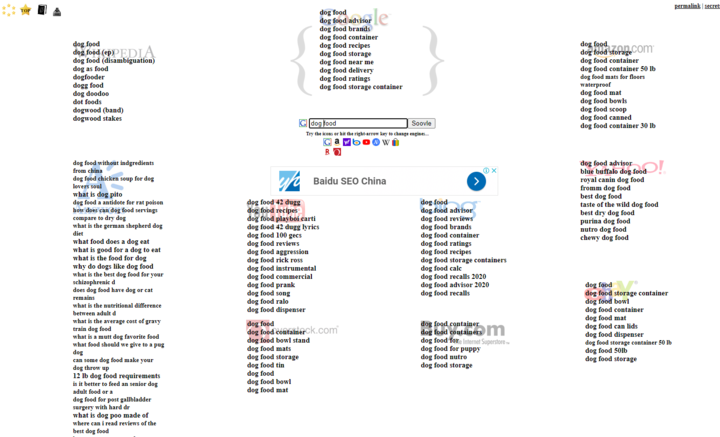 Clicking the keyword will send you straight to the search engine result page.
Pro tip: Use Soovle for specific keywords to generate subtopic ideas for your content.
Example:
"Dog food" is too broad a keyword for Soovle to be useful.
But "raw dog food diet" is specific enough for Soovle to help you create a topic outline.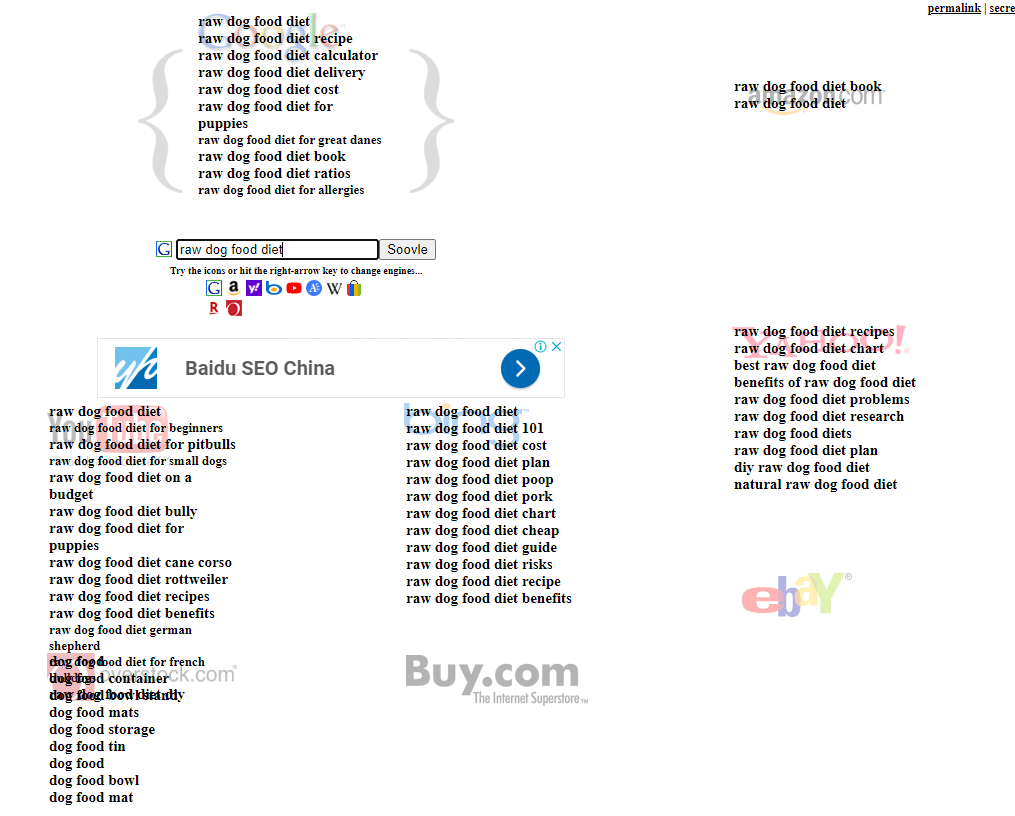 QuestionDB helps you find questions associated with broad keywords.
The answer to these questions reveal:
What problems people have
What people care about
What people are interested in
This is a useful tool for discovering people's pain points.
We know that top-performing content is solution-oriented. Thus, your content needs to address problems and solve them.
Start finding questions by entering a broad term like "protein powder".
Now QuestionDB can pull questions for the keyword you entered.
You can sort through questions by selecting New or Popular from the dropdown tab.
Be sure to feature these questions in your headline or introduction. This helps draw the reader in.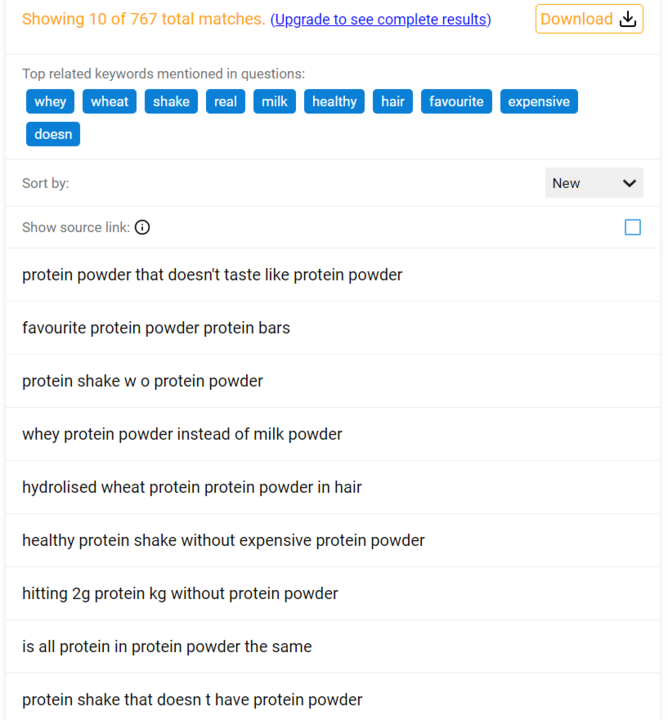 Keyword Sheeter is useful for brainstorming keyword ideas quickly.
It also uses Google autocomplete to pull around 1000 ideas per minute.
A major downside to this is that it's quite basic. It doesn't offer anything more than a list of keywords.
It has no metrics whatsoever.
But, it does try to make up for this with one other notable feature: Negative Filter and Positive Filter.
The best way to show you is a demonstration.
Let's run a search for the term "hiking".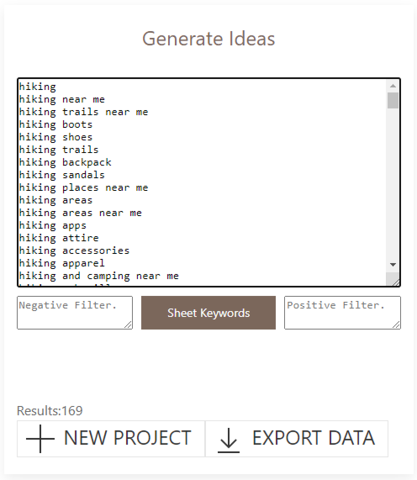 If you want to narrow your search, use the Positive Filter to include a new word.
So let's include "shoes".
You see? Now you only see searches that include the keywords: "hiking" + "shoes".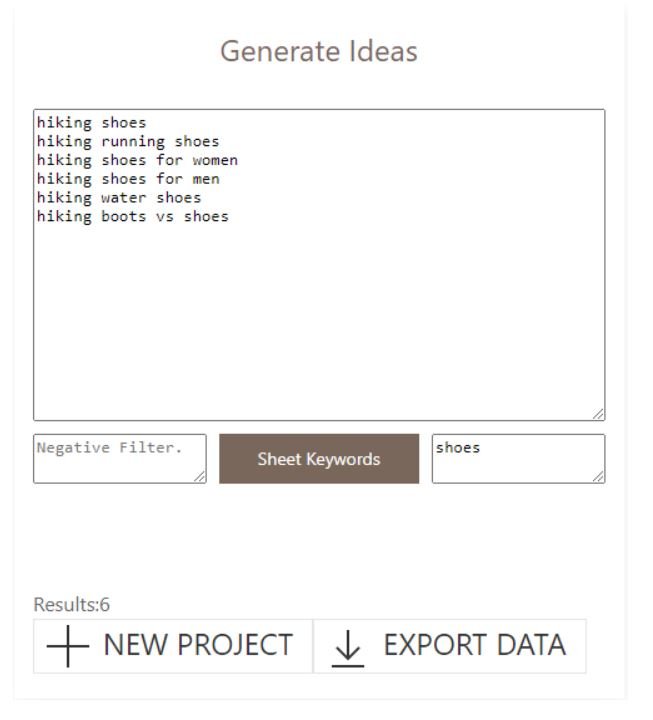 Use the Negative Filter in the same way as the Positive Filter. Only this time you omit words from the search result.
For example, assume you are researching keywords related to the tech company Apple. To avoid getting the company confused with the fruit, exclude words like "cider", "sauce", and "pie".
Bulk Keyword Generator scans business sectors for local keywords.
Local keywords are keywords used by people in a particular demographic. In other words, it refers to the process of making your company easily found online by local people. Otherwise known as Local SEO.
This can give you a huge advantage over local companies that don't include these keywords.
Start by choosing a business type. Let's go with "Interior Design" for this example.

Next, you'll see a list of related keywords relevant to your services.
Select your service types.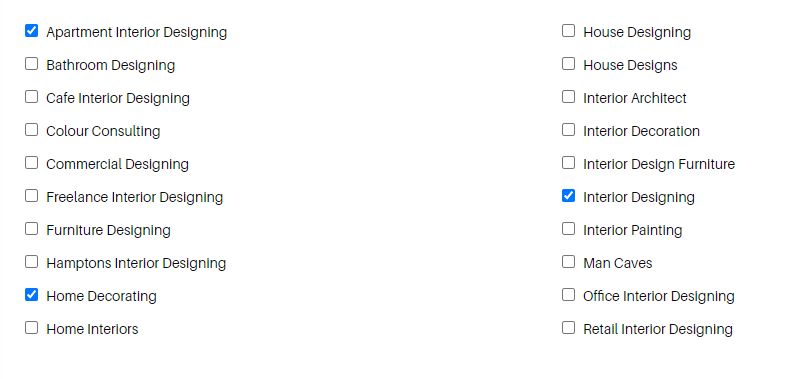 Enter your Location.
And now you have a list of local keywords that you can include on your banners, ads, and webpages.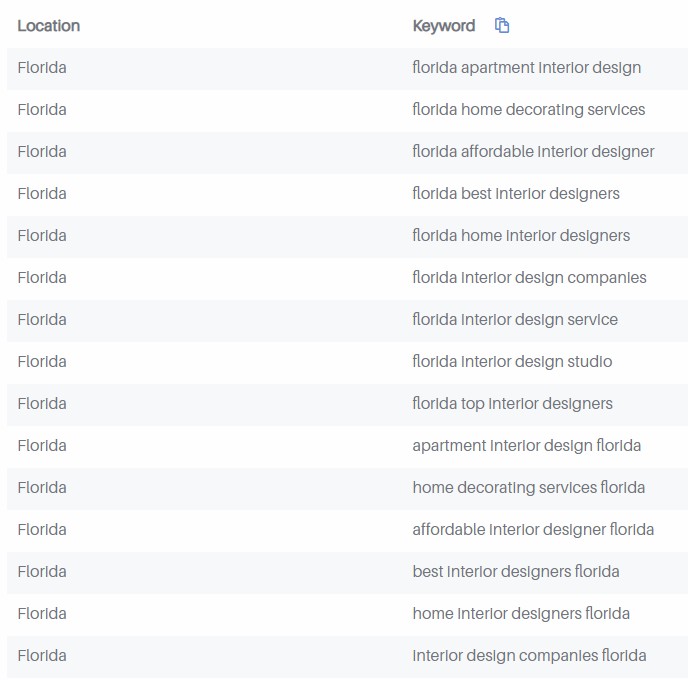 Final Thoughts
You don't need the latest, expensive SEO tools to find a great list of suitable keywords.
With a little elbow grease and duct tape, you can make just about anything possible!