The 3 Best SEO Plugins WordPress for Pros
The best SEO plugin for WordPress is typically just the one that works best for you.
How can that be?
Well, the differences in features and functions between the options will not have a huge impact on your SEO.
But what really matters is…
Proper keyword research, writing optimized blog posts, and making sure your site is well-organized and easy for both search engines and readers to navigate.
Plugins are a robotic guide, only the best human can pull off those jobs and that's you!
That being said, here are the top 3 SEO plugins options for WordPress.
Pick one fast and get back to doing the important work, making money from your blog.
Quick Summary
Each WordPress SEO plugin has its pros and cons, but with the current best options the top choice is definitely Rank Math.
While they don't yet have the reputation that Yoast has built up over the years, they've already made huge improvements just in the year and a half that they've been out. (And Rank Math offers a lot of cool features, at least for now, that Yoast only offers in their premium version.)
If you need to know why, below you will see the differences between these plugins.
Otherwise, click here to get Rank Math and start increasing your website traffic.
Let's dive in.
Yoast SEO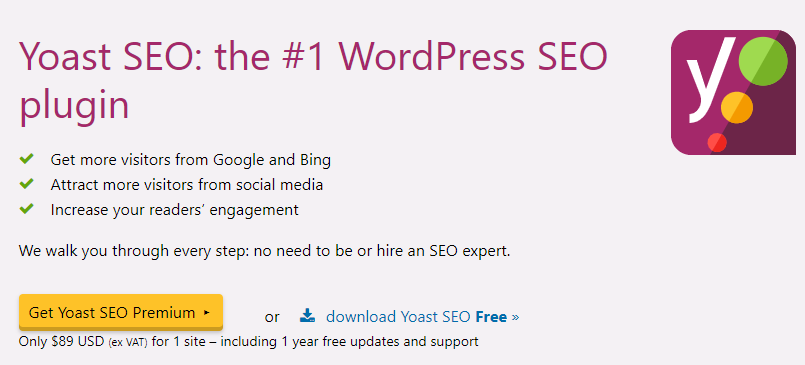 For years, Yoast has been the go-to WordPress SEO plugin for everyone—new bloggers, small businesses, larger corporations. If you had a WordPress site you used Yoast SEO.
While the free version is great for anyone, it has remained a bit stagnant over the years with some quality-of-life updates and few major improvements.
It leaves a lot to be desired for users with a more comprehensive knowledge of SEO and even the paid version doesn't quite hold up to what you'd expect for $90 per year. (I would only ever recommend the free version—there are lots of better ways to invest money into growing your site and this just isn't it.)
Nevertheless, Yoast is a solid choice whether you're new or more experienced with SEO. Their content analysis sets them apart from most SEO plugins, even if some of the checks seem a little unnecessary. Paid plugin aside, their free plugin is excellent.
How it Works
Once you install Yoast, it adds a box below posts, pages and categories that you can use to choose a focus keyword, edit the titles and meta descriptions and specify social media images and descriptions for Facebook and Twitter cards.
Readability/SEO Checks
Yoast also has a built-in content analysis, which checks various factors that it considers important for both SEO and readability.
Readability checks include:
Sentence and paragraph length
Subheading distribution
Consecutive sentences
Passive voice
Transition words
Flesch reading ease score
Checking your SEO with Yoast is a little trickier. Some of the checks are a little meaningless, like checking for a keyword in the first paragraph.
While your keyword should definitely be somewhere in the beginning of your content, your first "paragraph" might only be a three-word line. (It also doesn't account for affiliate disclosures and other text that might appear above your content.)
So there are checks in Yoast that, depending on how you write, you'll never hit.
Here are some of the SEO checks:
Internal links
Keyphrase in the introduction (first paragraph)
Keyphrase density
Keyphrase in subheading (You have to include your keyword in 30-75% of your subheadings to get the green light on this one)
Meta description length
Image alt attributes
Keyphrase in the title (must be at the beginning to pass this check)
Outbound links
Keyphrase length
Keyphrase in the meta description
Previously used keyphrase (it'll flag this if you have more than one page competing for a keyword)
Text length
Search results preview
SEO title width
Keyphrase in the slug (URL)
Yoast advises that not all these checks should always be met and that these are only guidelines. However, many of these are based on dated "best practices" that don't directly impact your SEO.
They also state that some of these checks (like using keywords in your subheadings) are more for readability purposes.
Convenient Features
The most convenient features in Yoast SEO are the "at-a-glance" SEO scores and link counters available on your posts page.
From your WordPress dashboard, click on Posts.
Over to the far right of each post, you'll see four new fields—outgoing links, internal links, SEO score and readability score.
Most SEO scores need to be at least yellow/green—the only thing you really want to look for are posts that are grey or red, as the only pages to expect to be like that are landing pages and category/tag pages (which you usually don't index).
The readability score is a good thing to check, as you'll almost always want this to be green.
The big things Yoast checks for are sentence and paragraph length, simplicity and heading distribution, which are all good things to check.
That's Yoast in a nutshell.
Rank Math SEO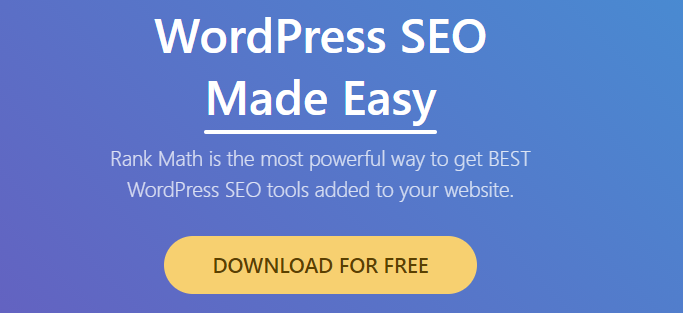 Rank Math SEO is probably the best SEO plugin out there at the moment.
Honestly, the only thing hurting them right now is that they don't have the name and reputation to back them up quite yet.
Currently, Rank Math only offers a free version, but they have a premium version on the roadmap.
However, this free plugin is giving Yoast a run for their money—even taking Yoast premium into consideration.
How it Works
Rank Math's setup takes a little longer, but it's a lot more thorough and impressively seamless.
Much like Yoast, as soon as you install it, it'll give you some pointers on the important things to set up first.
It'll hold your hand and guide you from start to finish, walking you through everything Google wants from your site, as well as integrating Google Analytics/Search Console.
Don't like hand-holding?
It's easy to skip the setup and just do things on your own later.
Readability/SEO Checks
Rank Math displays all of its checks in a little toolbar off to the right of your screen, which you can show or hide by clicking on the Rank Math box.
It has most of the same SEO checks Yoast does, as well as simplified readability checks.
It also fixed a few of the problems with Yoast, like:
It tells you why checks are important, so you don't have to go digging through documentation
Checks are more inclusive and flexible (Rank Math suggests having your keyword in the first 10% of your content vs Yoast's "it has to be in the first line" approach to this check
Keyword density checker is a bit more flexible and emphasizes that there isn't necessarily an ideal keyword density percentage (The only "hard" check it really has is that your focus keyword is found in your content at least once)
The title and meta description checks include a check for both characters and pixels to make sure they don't get cut short.
Includes a preview of what your listing will look like on the search engine results page, as well as a social media preview, which is currently only in Yoast's premium version
It also adds some checks/recommendations that I've found helpful, like adding a break-down of your post (like a table of contents plugin).
Rank Math also has a title checker that looks for things like keyword placement, sentiment, power word usage, and the use of a number. (Basically, things that are most likely to get views and shares, based on various headline studies.)
Rank Math Convenient Features
If you go to your Posts page from the WordPress dashboard, you can see your content score, focus keyword, schema and links. This feature is similar to Yoast, with some minimal improvements.
While Yoast does support certain schema markups, it requires the premium version.
Rank Math, on the other hand, includes a lot of gated features in their free plugin.
You can also set up redirects.
If you were previously using one of the major free plugins like Redirection, you can easily import all your current redirects into Rank Math—one less plugin you need. (This is also one of Yoast's paid-only features.)
It also has a built-in role manager so that you can limit the functions of the plugin to certain roles.
Lastly, it has a very basic sitewide SEO analysis that checks your homepage, posts and pages, as well as some basic SEO checks like making sure your site is set to public and that your permalinks are set up correctly.
If anything is wrong, it'll give you some next steps and show you how to fix the problems. There's a lot that could be added here, but given how new it is, it's likely to see some improvements.
All-in-One SEO Pack

Where Yoast focuses more on content optimization than anything else, All-in-One SEO is more for someone who wants an easier setup, and maybe uses an outside tool for content optimization.
The lack of content analysis features is the biggest thing that hurts the AIO SEO Pack, as its biggest competitors (Yoast and Rank Math) both offer extensive analysis tools.
That being said though, having all in one in addition to Yoast or Rank math may be a great combo, here's why.
Fills the Holes
The best thing about AIO SEO Pack is how easy it is to get to all of the settings. Where Yoast buries them in tabs, AIO has them all on one page.
In addition to this, AIO gives way more control over technical details! (like being able to exclude pages from the sitemap).
There's also less incessant nagging to "upgrade to premium."
While AIO SEO used to win when it came to social media optimization, Yoast's free version has since allowed more social customization options and an easy way to verify your site on Pinterest.
Conclusion
So, choose one of these best SEO plugins, get writing, and grow your site!