Are you looking for a WYSIWYG (what you see is what you get) editor that will help you create a stylish site?
In this post, you're going to learn the best WordPress plugins that will help you design your website and build epic pages fast, starting with our favorite.
Let's get right into it, shall we?
Top Pick – Thrive Architect
With 269 page templates, the ability to customize contact forms, and being one of the few true WYSIWYG page builders on the market—Thrive Architect is the best WordPress WYSIWYG Editor.
Thrive features include buttons, spacers, icons, columns, countdown timers, social share… you name it.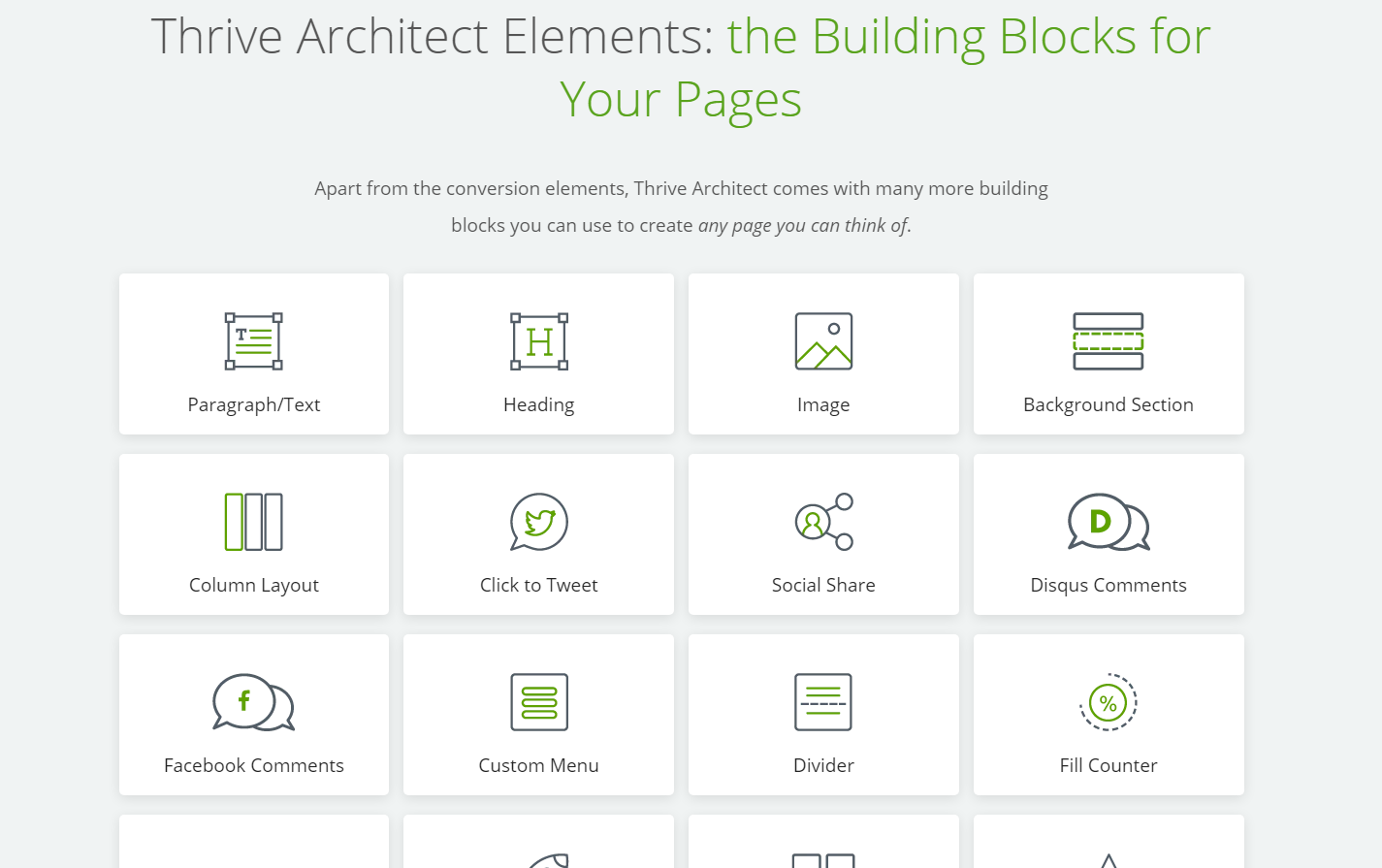 And all without having to count pixels or open standard WP boxes, which are common shortcomings of many supposed WYSIWYG editors.
You can resize font, columns, images, etc. right on your screen and see exactly what it will all look like together—instantly.
Thrive even allows you to choose one word in a heading and change the size of it.
Look: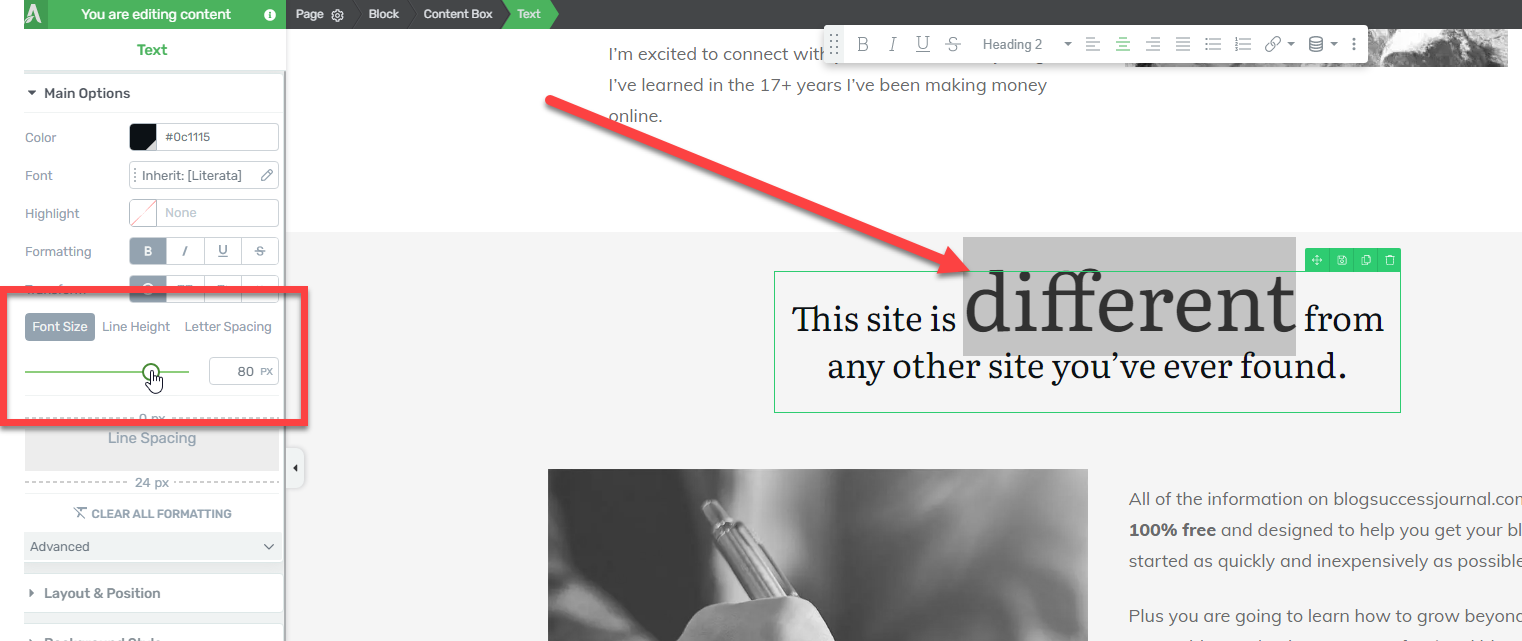 Most editors don't allow that much specificity. Which is just one of the reasons why Thrive easily stands out above the rest.
And another thing.
Thrive quickly integrates with 23 email marketing providers out of the box, without adding more plugins.
And with its simple API key integration—your webinar, shopping cart, online course, and other third-party marketing platforms easily connect to your WordPress site.
Need to add a specific Facebook pixel or other script for tracking visits to your thank you page?
Done in seconds with Thrive Architect, which will make your current or future Facebook ads guy thank you!
For a one-time fee of $67, click here to get started with Thrive, this is an affordable WYSIWYG Page Builder that will help you easily design your home page, contact page, and more—that you will never outgrow.
And you know what?
Lifetime updates, instead of the typical one year, are included. So you never have to pay another dollar for a newer release of Thrive Architect.
Thrive Architect Features
Smartphone, tablet, and desktop page building
Customize everything for leads and sales conversions
Drag sliders instead of entering pixel numbers
Runner Up – Beaver Builder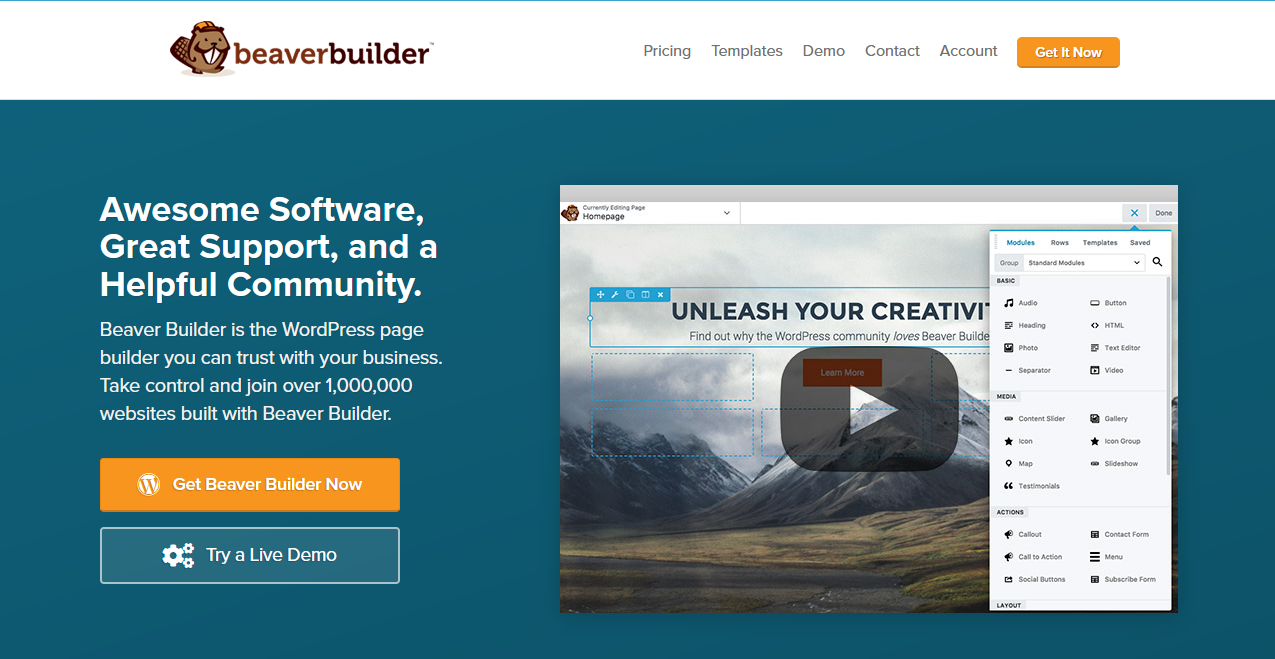 Beaver Builder is a user-friendly and intuitive page builder plugin that makes it easier for you to style your site from the front end.
After installing it, this WYSIWYG editor will take you through a quick tour to show you various customization options.
What's more, you ask?
With this page builder plugin, you can either design a page/section from scratch or you can load pre-designed templates. Such templates are divided into two categories: landing pages and content pages.
Landing pages focus on homepage designs while content templates make it easier for you to design your portfolio, services, and about page.
Beaver Builder also offers you a set of advanced controls that allow you to edit, move, and duplicate various elements.
It has a flexible control panel that can be hidden to give you more room to modify multiple elements.
And guess what?
This WYSIWYG editor has various content modules that can help you achieve certain functionalities on your site.
Examples of such modules include maps, buttons, testimonials, pricing tables, and WooCommerce online shop content.
Beaver Builder Additional Features
As if that's enough, Beaver Builder also offers you:
Multiple WordPress content Widgets
Keyboard shortcuts for quick editing
Video backgrounds and animation effects
Best Freemium – Elementor

Elementor comes with tons of widgets/elements that help you design stylish pages on your site.
This drag and drop WYSIWYG editor also has various styling options that let you customize the color, weight, and decoration of different texts which make it the best freemium drag and drop page builder out there.
So, you don't have the time to build pages/sections from scratch?
Well, Elementor has a template library that allows you to import designs with a single click. Not to mention, there are two types of templates—full page templates and section templates.
That's just the tip of the iceberg.
This page builder offers you a full revision history, making it easier for you to revert to previous front end versions. You don't have to beat yourself up if you make a mistake while using Elementor.
To help you improve the user experience on your site, Elementor provides you with a table of contents widget that can be customized.
Here's the thing:
Elementor has a premium addon called Elementor Pro, which offers you more advanced features.
One of the most unique features that Elementor Pro offers you is the ability to design an entire WordPress theme, using the drag and drop interface. Yes, you read that right!
Elementor Additional Features
Mobile, tablet, and desktop preview
It packs a powerful popup builder
You can easily integrate this frontend editor with Google analytics, using multiple plugins
Themify Page Builder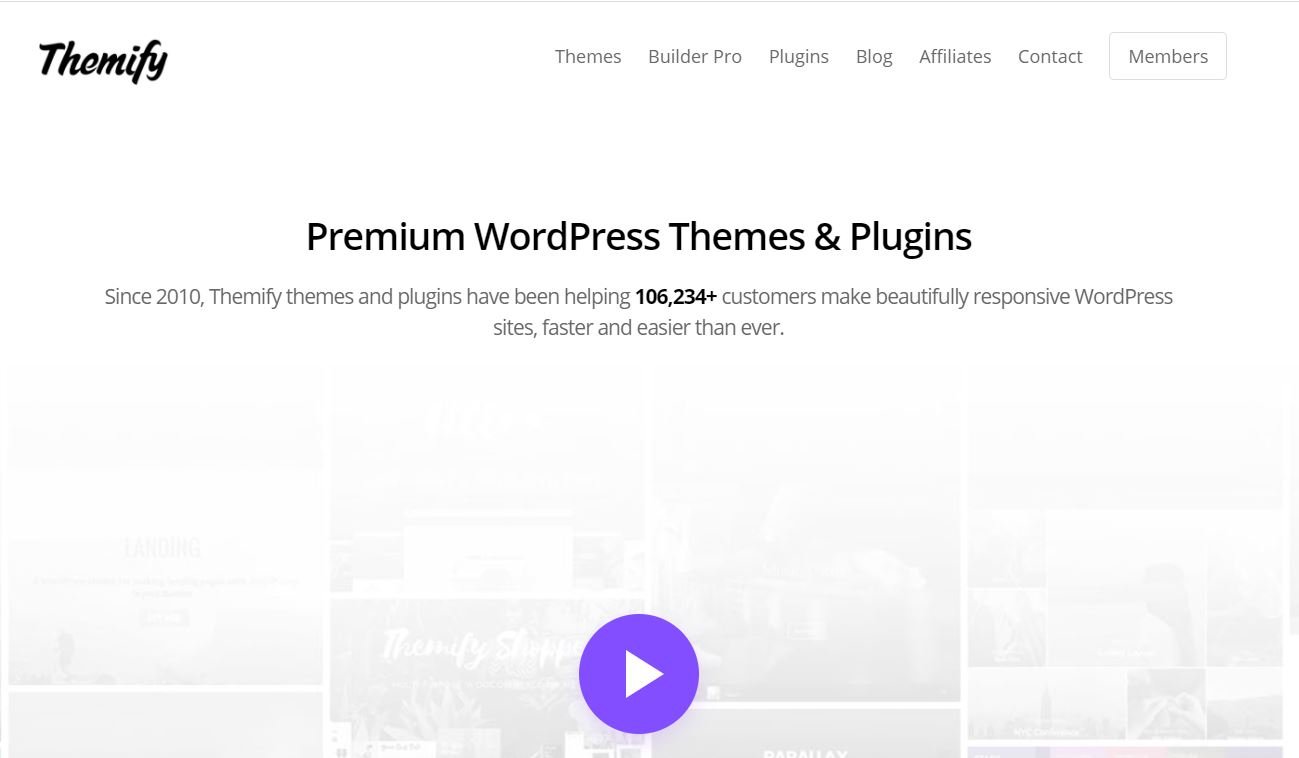 While this builder is a part of various Themify themes, it is also a standalone WYSIWYG builder.
It packs more than 40 different page layouts, which you can use to design professional-looking pages.
Themify builder also has animation effects that are quite catchy to the eye. Examples of such effects include zoom in, flip, bounce, light speed in, and shake.
Want to know the best part?
This visual editor has its own caching system that speeds up page processing.
It doesn't stop there.
Themify page builder has responsive grids that can be tweaked to appear differently on multiple devices. For instance, you can display a 6-column layout grid on desktop, a 3-column layout grid on tablets, and a 2-column layout grid on mobile phones.
If you are planning to customize or add elements to a page on your site, this plugin offers you surplus options that help you achieve that. This includes call-to-action buttons, sliders, maps, galleries, you name it.
As if that's enough.
Themify builder has a styling panel that allows you to customize elements such as headers, background images, footers, and much more.
Themify Builder Additional Features
Compatible with various WordPress themes
Mobile support
Multiple extensions such as image pro, maps pro, and slider pro that extend some functionalities
Divi Builder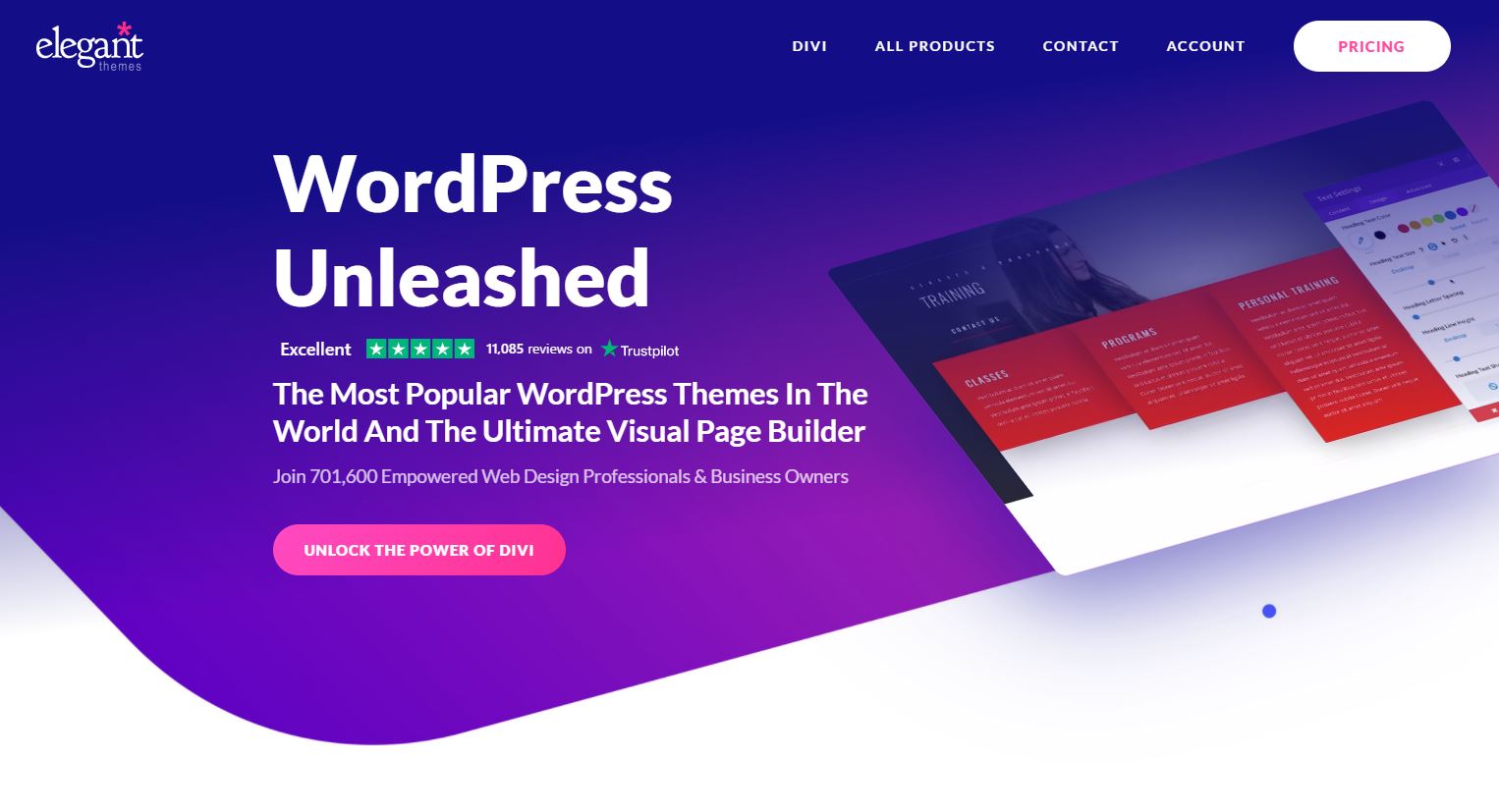 Built by Elegant Themes, Divi is a roaring success due to its page builder—Divi Builder.
'Do you have to download the Divi WordPress theme to access Divi Builder?' I know that's what you're wondering, right?
Luckily enough, this WYSIWYG editor is a standalone page builder plugin that works perfectly with various themes.
What's more?
Divi Builder packs high-quality pre-designed content templates that you can use to design a stylish page. Most of these templates are grouped into different categories such as technology, lifestyle, health, business, and art.
Furthermore, this WYSIWYG editor has tons of modules such as buttons that add different functionalities to your WordPress site.
There are also various customization options, which you can use to edit various modules to suit your style.
While having complete freedom over your site's design is wonderful, sometimes it might be hard to know whether your designs are making a difference or not.
Fortunately, Divi Builder has an A/B testing tool that makes it possible for you to test different designs and know the one that has the best conversion rates.
Additional Features of Divi Builder
A role editor that limits some users from accessing certain functionalities
Theme building and theme designing
Mobile support
Page Builder by SiteOrigin
SiteOrigin is a free WYSIWYG WordPress editor that has been giving premium WordPress page builders a run for their money.
For starters, SiteOrigin features advanced widgets, which you can use to display content on your site. Examples of such widgets include buttons, tables, and sliders.
You can also edit those widgets to suit your style on the builder's sidebar interface. While this WordPress WYSIWYG editor doesn't feature tons of pre-designed templates like other premium editors, it packs some pretty attractive templates.
It offers you eCommerce, about, home, and contact us page templates that help you create an elegant site. Since this WordPress WYSIWYG editor has a tablet and a mobile preview feature, you can easily preview how your site will look on different devices.
Now get this one thing straight:
SiteOrigin has a pretty solid live editor. However, it doesn't have an inline editing feature. Instead, this WYSIWYG editor offers you a popup window that allows you to tweak different features on widgets.
Additional SiteOrigin Features
Compatible with various themes
Mobile support
SEO friendly and lightweight
A history tracker that makes it easier for you to revert previous changes
Brizy
Launched in 2018, this is an effective WYSIWYG editor that is about to join the likes of Elementor, Divi, and Beaver Builder in terms of popularity.
Just like other WordPress page builders, this one here comes with tons of different elements such as buttons, counters, and tabs.
Instead of editing elements from a popup window, this editor has an inline editing functionality that takes the customization process to the next level.
Ever tried to look for a certain element in a cluttered up user-interface and you felt as if you were banging your head on the wall?
Well, the good news is: Brizi has an intuitive user-interface that makes it easier for you to find different elements.
And one other thing.
This WYSIWYG WordPress editor has more than 150 pre-made blocks that you can use to style up your website from the front end. You can restructure blocks and change certain elements to get a style that suits you the most.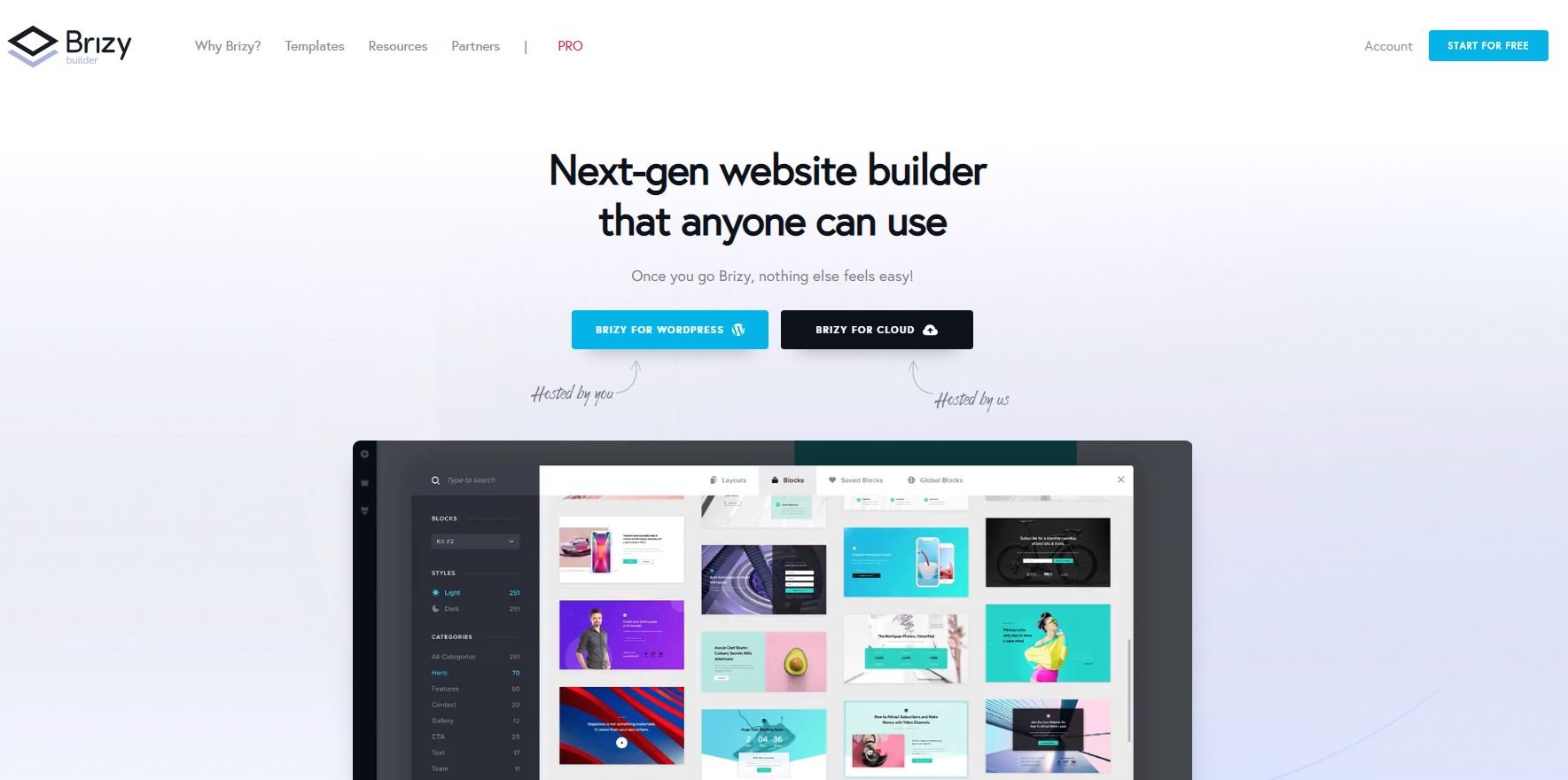 Brizy also has a global styling feature that allows you to apply the same editing style to different elements on all your pages. For example, with this feature, you can apply the same font style to all the text on your website.
Since this editor has an open-source license, you can easily download it from WordPress org.
Brizy Additional Features
Mobile-support
It packs more than 4000 different icons in glyph and outline form
WP Bakery Page Builder
Previously known as Visual Composer, WP Bakery is a new WordPress plugin that comes with multiple designing elements.
It gets better, this visual editor also has add-ons that give you access to more than 200 additional elements.
So which styling options does this editor offer you?
Unfortunately, this plugin doesn't offer you many styling options that allow you to edit a basic element. You will be limited to editing the borders, margins, paddings, and the background.
If you don't have enough time to edit pages from scratch, WP Bakery Page Builder packs more than 85 templates that can give you something to start with. Such templates are grouped into different detailed categories.
For instance, there are templates for an 'about page with tabs' and different templates for an 'about page with a gallery'.
This is one of the most unique things that this WordPress WYSIWYG editor offers you.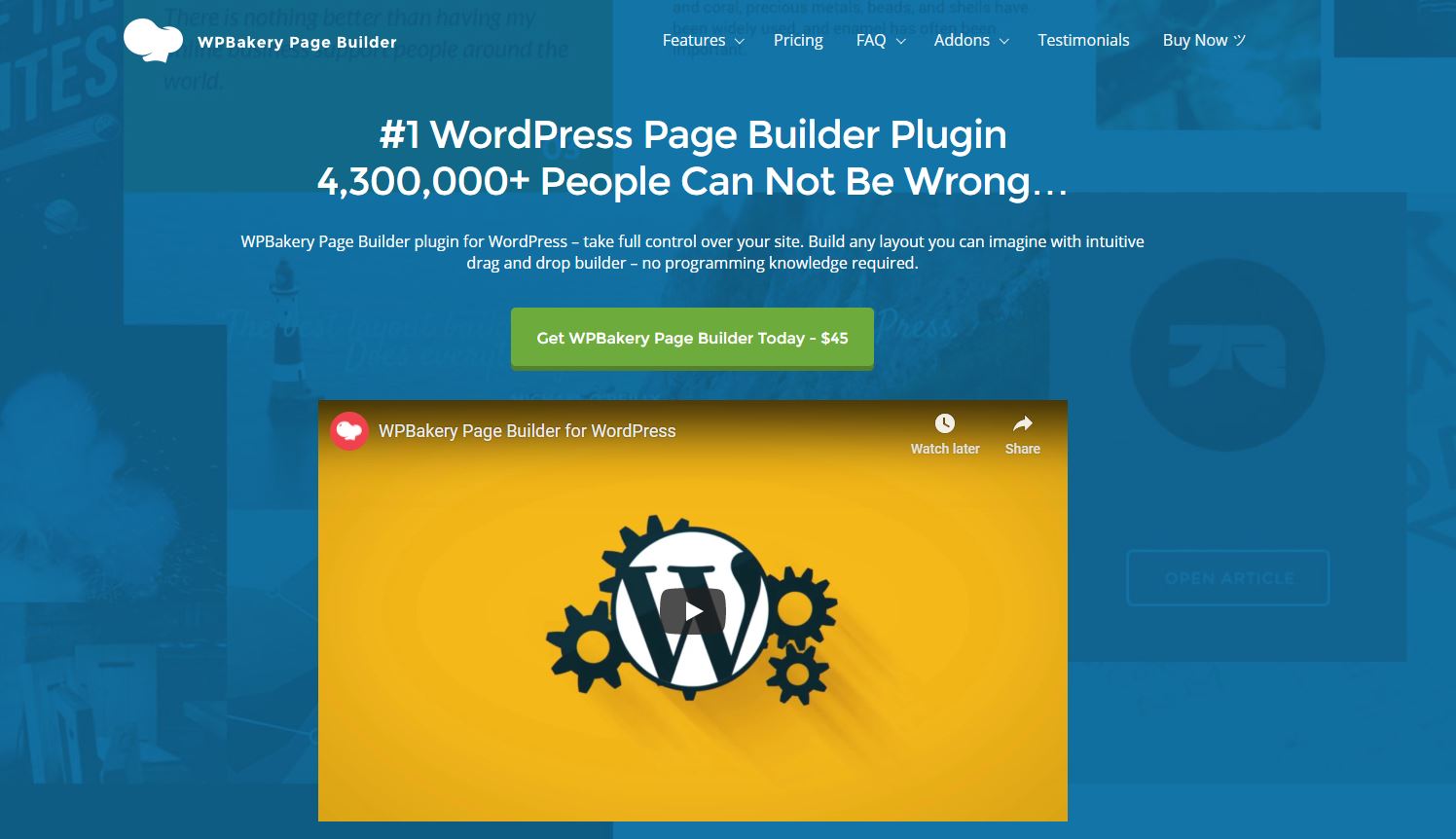 WP Bakery Page Builder also has a role manager that allows you to control access to specific controls. While the role manager is not too detailed, it gives WP Bakery Page Builder an upper hand over other WYSIWYG editors.
WP Bakery Additional Features
Compatible with multiple themes
Mobile phone preview, tablet preview, and desktop preview
Support for various third-party applications such as Gravity Forms, WooCommerce, and contact 7
Live Composer Site Builder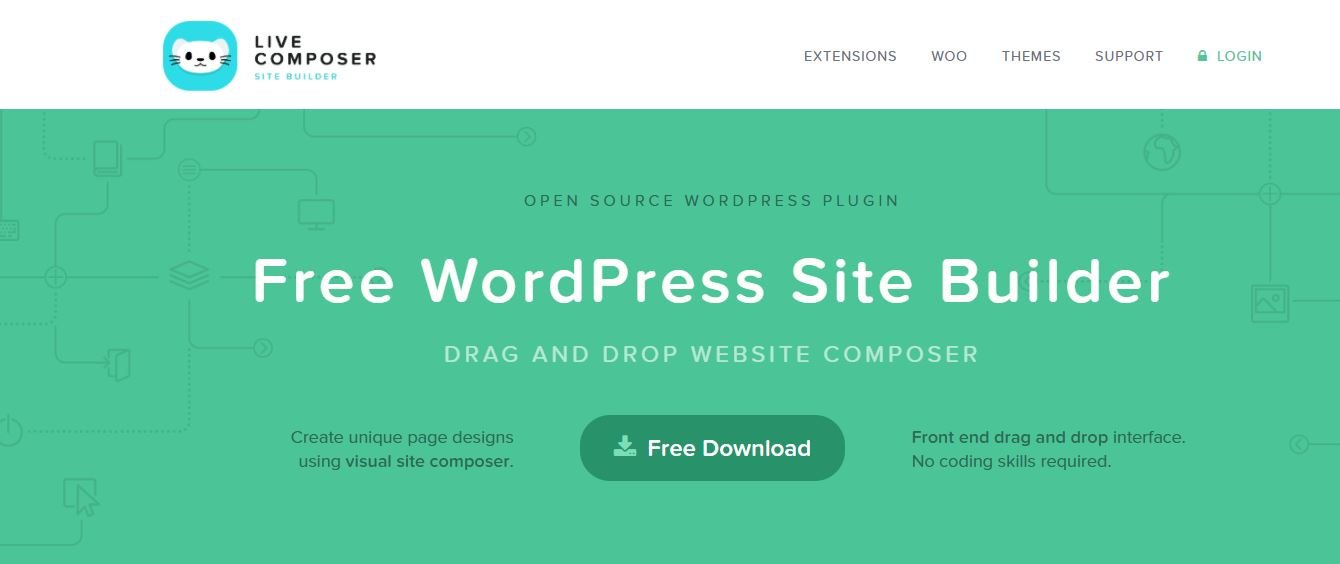 Unlike other page builders that come with a sidebar, Live Composer Site Builder has a menu bar on the bottom-most part of a page. While this is a unique feature, elements are too cluttered, making it harder for you to find what you're looking for.
Apart from that, this WYSIWYG WordPress editor packs multiple customization options that help you add some style to your site. You can easily change the font style, letter spacing, color, and padding of different elements.
This WYSIWYG WordPress editor also comes with six new post types.
Now, here's the rub:
Live Composer Site Builder doesn't have tons of prebuilt page layouts like other WYSIWYG WordPress editors.
It only packs a few service and blog post layouts. So, if you are planning on using this editor, you should be ready to design pages from scratch.
Live Composer Site Builder Additional Features
Compatible with multiple themes
Custom post types
WP Page Builder By Themeum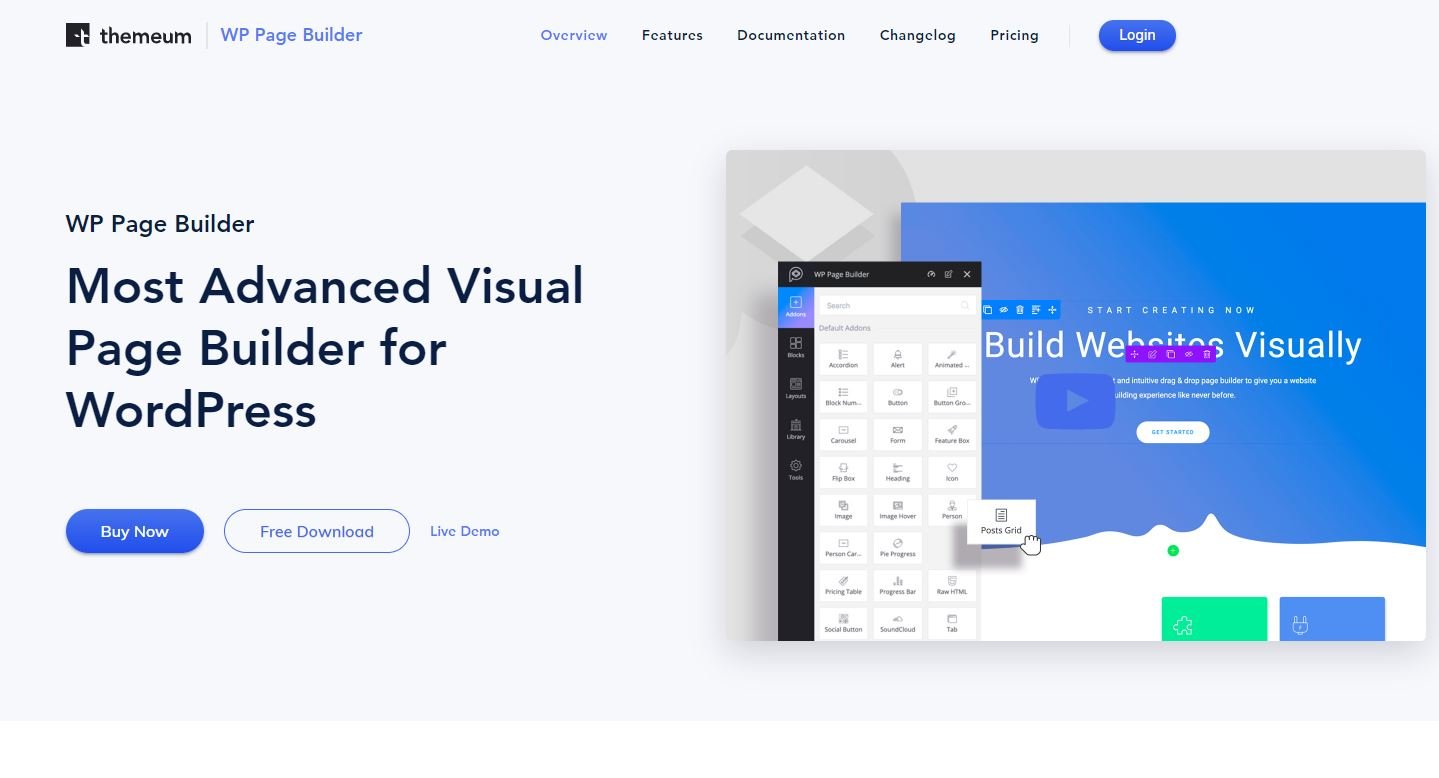 WP Page Builder by Themeum is a super lightweight and easy-to-use plugin that helps you design beautiful pages in a matter of minutes.
For starters, this WordPress editor comes with various pre-designed blocks that can be dragged and dropped on your site's pages. It also offers you tons of pre-designed layouts that speed up the website design process.
Since WP Page Builder by Themeum packs various designing elements, you can use them to design unique pages from scratch.
And you know what?
With this builder, you can easily save your custom designs for later use. Astonishing, isn't it?
As if that's not enough…
WP Page Builder by Themeum lets you import various layouts, which you can incorporate into your site's pages.
This plugin is available in two versions. While the free version has all the necessary features required to design a functional page, the pro version has additional features like add-ons that expand the designing options.
WP Page Builder By Themeum Additional Features
Translation ready
Responsive
Mobile support
Over To You
And there you have it, everything you need to know about the best WYSIWYG WordPress editors. Most of these visual editors will help you design a beautiful site with attractive landing pages.
Different elements are also available to help you take your site's design to the next level.
Not to mention, some of these editors have split testing tools that give you more insight into certain designs.
Even with all of these great choices our top pick is definitely Thrive Architect.
Thrive allows you to do so much more than the other editors for a one-time, lifetime fee. You'll never outgrow this easy-to-use editor.