If you are thinking, "WordPress's categories feature sure makes site navigation easier".
You're right!
But it's not just easy navigation, categories also have other benefits.
You are going to walk away from this article knowing all you need to know about WordPress categories.
Once you master Categories and Tags your site navigation will be a breeze AND your SEO may even go through the roof.
Let's dive in.
How To Create Categories In WordPress
There are different ways to create categories in WordPress.
As you are going to learn, the easiest and fastest way to create a category is directly from the dashboard.
To create categories:
hover over Posts >> Add New >> Add new category (available at right side menu panel) >> Type the category name >> click Add new category
By default, if you don't pick or add a category, your post will be grouped under uncategorized.
But wait, can you add more than one category to a single post?
The answer is simple: Yes!
But if you choose more than one category it will show the same content repeatedly.
This can really confuse your visitors.
So here's the trick, add both a parent and a child category.
This will make your navigation more straightforward.
What's the difference between the parent category and child category?
After adding the category widget to the footer or sidebar, you will see the child category option will be sub-categorized under the parent category.
Here's another trick, you can create child categories for existing child categories.
This Parent, Child, Child pattern is called the Category Hierarchy.
How To Edit Categories In WordPress
Take this another step further, you can also create new categories to add to Category.
Categories are archive pages on WordPress.
To edit category >> Go to Posts >> click on Categories >> Click on categories you want to edit
On the Category dashboard, you can delete or add a category.
You can edit the slug and label of an existing category, and add content.
To add content to the category page, enter the contents on the description meta box.
You can delete the number of categories through bulk actions features.
But be careful to deselect the useful categories before you delete.
Categories Also Help Your SEO
Now this is cool, besides structure and easier navigation, "Category" also improves your website SEO.
The SEO you can hold in the category data includes:
Meta description
Keyword-rich contents
Slug
Breadcrumbs
SEO friendly "permanent links"
Now Enable Your Breadcrumbs
To enable Breadcrumbs, you need to install an SEO plugin called Yoast Plugin.
After activating the plugin, go to SEO >> Search Appearance >> Breadcrumbs >> Enable >> choose category (Under show in breadcrumbs for content types) >> Click save changes.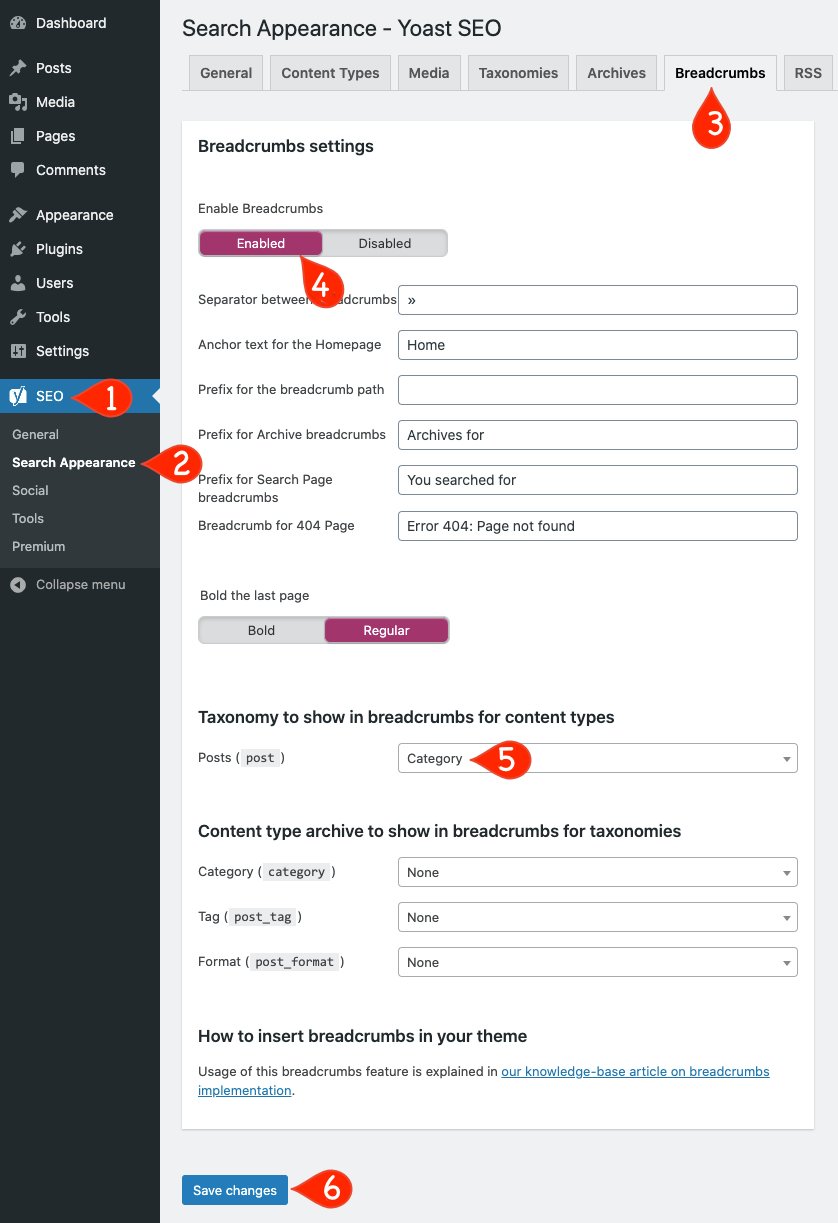 SEO Permalink For Category
To optimize your SEO you need to include a SEO category BEFORE the post name in the URL.
This will make it easier for people to navigate your site. They can search the category before they choose one particular post to read.
You can squeeze this additional information into your URL.
To do this you want your URL to look something like this example:
http://blogsuccessjournals.com/blogging/wordpress/taxonomy/hello-this-is-post/
Follow these steps:
Go to Settings >> Permalinks >> click on custom structure >> enter
Go to Settings >> Permalinks >> click on custom structure >> enter "/%category%/%postname%/" >> Click on Save
After saving the permalink settings, go to the post you want to change the permalink.
You will notice an additional option "Primary" under categories option.
Now notice:
Taking the above example as reference, If you select "Taxonomy" as primary, the URL would be:
http://blogsuccessjournals.com/blogging/wordpress/taxonomy/hello-this-is-post/
When you mark something as "Primary", it will come before the article name.
Similarly, if you select WordPress as primary, the URL would be:
http://blogsuccessjournals.com/blogging/wordpress/hello-this-is-post/
Because the taxonomy will be after the name.
Altering the category permalink will improve the structure of your website for search engines.
How To Display Category On The WordPress Sidebar
Look, no matter how you categorize your content, if you don't display it properly, it won't help your navigation.
The best place to display "Category" info is in the sidebar.
Using a prebuilt feature on WordPress, you can embed the category widget, making it very easy to display.
To add Category widget to the sidebar:
Go to Appearance >> widgets >> Click on Categories >> Select the areas where you want to display >> Click Add widget.
After adding the categories widget, you need to configure it.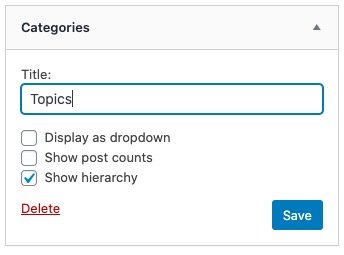 Then name the widget.
Make sure to use the Category hierarchy to make the navigation easier on your website.
To Sum Up
The Category feature can be very powerful, if you use it right.
You need to use categories to:
Group your content
Make it easy navigate your site
Blow up your SEO, with breadcrumbs and permalinks
It's easier than you think.
Once you are using these steps every time you post an article you will start reaping the rewards.