In this article, you'll learn several proven money-making strategies for your blog.

But regardless of which one (or several) you choose to adopt, you'll want to start off by learning and memorizing this vital blogging equation:

Traffic + Conversions = $$$

In short, you want your blogging efforts to drive traffic your way, and your goal is to convert the traffic into sales.

What many people don't know is that a HIGH-converting percentage for online sales is only 2-5%.

What this means is 95-98% of people will not make a purchase the first time they come across your offer.

How do you make money from this 95-98% (the vast majority of your target readership)?

Fear not … all of the answers are in this post.

Here's what you need to do, moving forward, in two steps:
Choose a monetisation path (we discuss that first).
Learn and commit to the "make money blogging" magic formula that will change your life.
Ready to enhance lives in the only way YOU can … while making money?
Let's begin with two ways to drive traffic and conversions at the same time:
"How-to's" and "List" posts.
#1 Create "Lists" Blog Posts
With Traffic + Conversions = Money in the forefront of your mind, the most direct way to increase traffic to your blog is by writing blog articles. (Didn't see that coming, right?)
You've surely seen these types of posts before:
Or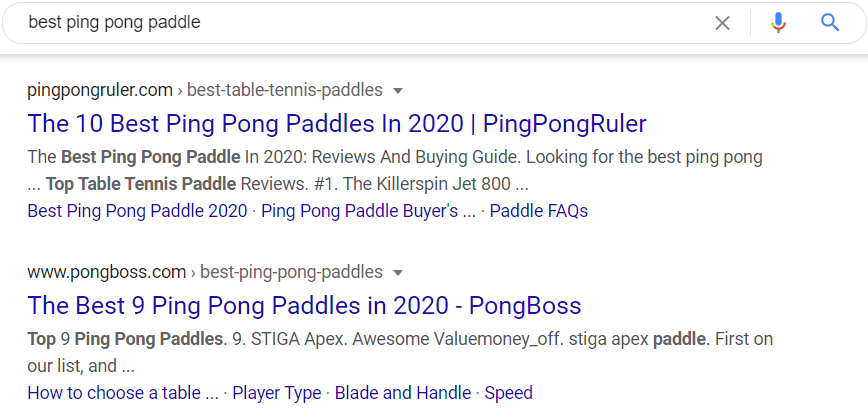 Lists posts are a goldmine for making money with affiliate marketing.
Let me explain how it works:
People are looking for products to buy on the Internet all the time.
Because there are so many different choices available, your average online shopper is facing decision fatigue, and they're looking for someone to tell them which product is the best to buy.
Here is where you come in with your list post!
Depending on your niche, you can create posts such as "7 Best of …" This way, when people are on Google looking for long-tail keywords like "best knife for the left-handed cook" or "the best watering can for tomato plants," they'll find you.
Once they stumble upon your posts, this is where you link to products you recommend with your affiliate links.
What Is an Affiliate Link?
An affiliate link is a unique link to products sold by other companies that your readers purchase after reading an article on your blog.
When a reader purchases from your unique affiliate link, you earn a commission on that sale.
This is called affiliate marketing, and it's the fastest ways beginners can make money online.
Here's how to create these posts in three steps:
Find a keyword using Google autocomplete
Choose your products for the list.
Find affiliate links to each of those products.
You can find these keywords by entering phrases like, "best knife for" into the homepage of Google and then hitting space.
Look: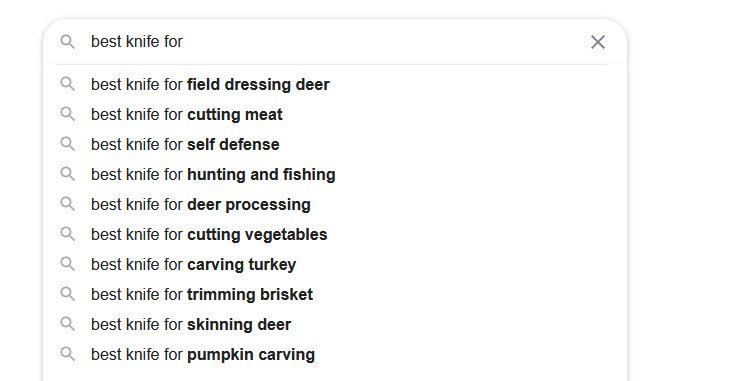 After determining your keyword you want to choose your products and then create affiliate links.
How do you get a unique affiliate marketing link?
There are two ways to obtain affiliate links for your blog post:
Find a product and see if they have an affiliate program.
Join an affiliate program or network, and find products they have to offer.
The easiest and simplest way to start getting affiliate links is to join the Amazon Associates program, an affiliate program, by clicking here.
Then you'll be able to get unique Amazon affiliate links like this:
Step One: After accepted into the Amazon affiliate program, simply search the Amazon product you want to include in your article.
Step Two: Once on that product on Amazon, click the "Get Link: Text" section at the top of the page and right click to copy your affiliate link.
Step Three: Then simply paste that link into your article behind some words where you are talking about that product by clicking the hyperlink section in WordPress, then hitting apply.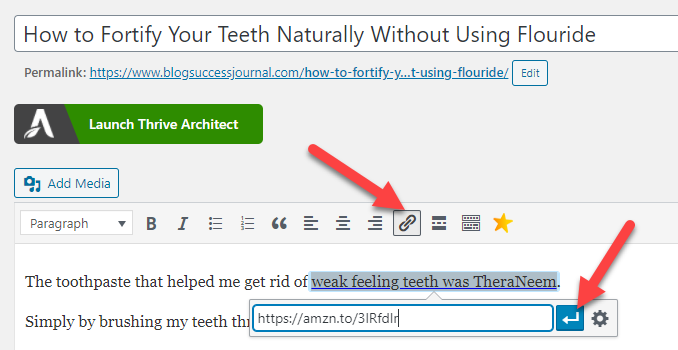 That's it!
When people click on and buy the product through your affiliate link, you earn a percentage of that sale!
And voila, you're making money with your blog via affiliate links!
Note: If you're trying to make money from your blog, you need to be on WordPress. (Here are three compelling reasons why.)
Okay, ready for another blog post type that will increase traffic and affiliate conversions at the same time?
Let's jump in!
#2 Write How-To Posts with Affiliate Links
One of the best ways to monetize your blog is with How-To guides.
Why?
Because in a How-To guide, you will accomplish these goals:
Make money from your how-to blog article
Drive the right kind of traffic to your blog
How do "How To" blog posts make money?
Have you ever bought a $50+ product on Amazon?
(Okay, I know you probably did. The question is, Why did you buy it?)
Most likely, it was to accomplish a goal you have for yourself or your family, hobby, business, etc.
Maybe you bought a new blender because you were trying to solve "how to make smoothies for weight loss" or "how to get the kids to eat healthy," etc.
The blender was the tool that you used to accomplish a "how-to."
Guess what?
You can turn that information into a blog post that includes an affiliate link to the blender.
You want to be an affiliate for more than Amazon, though.
So let's move on to another, possibly more worthwhile, way to find affiliate products for how-to articles, lists, roundup posts, and more.
Utilize Your Personal Story
Imagine that you have a personal blog focused on health, and you've been on a personal weight loss journey using HealthyWage.
A simple way to monetize your blog would be to get an affiliate link from HealthyWage.
Then, write an in-depth guide about …
How you lost weight as a mom, and
One of the tools you used was HealthyWage
Share your step-by-step journey, what you did and why, how HealthyWage helped you, and how other people can reach their goals with it.
Make it personal …
What transformations have you experienced that you can share on your blog?
Take some time to think about it.
I bet you can find some great examples that would be fitting for your blog, which you could write about and monetize through affiliate marketing!
The most successful everyday bloggers take their readers on a destination journey:
From broke to financially free
From sick to healthy
From cluttered to living with space
… and more
And along the process of transformation are many steps, each of which can comprise another "how-to" article.
Here's how to take a few of your How-To posts and create a million-dollar business from your blog.
#3 Make Money Selling Transformation
Selling transformation means selling people information that will help them transform their lives.
How?
By creating "how-to" transformation products called information products.
There are many types of information products:
… but the most scalable type of information product is an online course.
Think of our example above. Let's say you write several posts about how to "lose weight" or "get healthy" or "beverage making" (or "improve family time" or "woodworking" or "kid raising" … basically, whatever journey you've been on).
When you combine a few posts in any one of those niches, suddenly you'll have a good amount of material.
You'll also have a bunch of readers interested in accomplishing a similar goal.
What do you do then?
Create an online course surrounding that journey and sell it!
The beauty of this is you can create a course once and then sell it for years and years.
This is the single best way to make massive money from your blog traffic!
How do you create an online course?
Creating an online course requires a few steps:
Determine what transformation your course will solve
Outline and create your course
Create a sales page for your course
Create a lead generation page (email opt-in page)
Get leads and send emails promoting your course
Note one of the online course steps above: create a lead generation page.
This is a designated page on your blog that you create solely to grow your email list.
Your email list will help you boost and grow every method you utilize to make money from your blogging business.
How does this work?
When you have an email address, you get opportunities every week to make offers, cultivate more trust, and sell to the 95 out of 100 people that said no the first, second, and third time.
Keeping up the traffic to a sales page or other offer is hard, BUT when it comes to your email list, things are different.
A follower's email inbox is a way more intimate space than your website.
People are giving you personal access to them by giving you their email. This means they want to hear from you!
But here's the hard part:
You need to have a decent amount of traffic BEFORE you can start building that list and getting consistent revenue.
How do you fix that?
Remember our equation: Traffic x Conversions = $$$$
A Blogging Business in a Box
If you hope to make the most of your money-blogging dream, there is a hidden-in-plain-sight success secret revealed at the end of this post.
However, if you simply want to start earning sooner rather than later, you can do that with these three steps we've just covered:
Create "How To" posts
Write "List" posts
Offer a digital course or two
With these methods, you're already on the way to growing your traffic, making affiliate sales, building your email list, making sales with information products, and changing your financial future!
If you take action by consistently writing posts, collecting email addresses and create a course (or three) you can offer, and do that for the next one to three years …
… you're setup for life.
Here's a guide to help you start and grow your email list using free tools.
If you don't know what topic to create a course on just yet, the next way to make money blogging is an easy way to test your transformation and expertise:
Earning money on your blog through coaching and consulting.
#4: Earn from Coaching & Consulting
A lucrative way of selling your skills is by offering coaching or consulting services.
If there is something you're good at or are a few steps ahead of others in, sharing your knowledge can be a great way to earn money.
And you don't need to be Tony Robbins to do that!
Have you recently lost weight and changed your habits?
Coach people on how to live healthily!
Have you changed your life by using the law of attraction?
Great! Teach other people how to do it with private sessions!
Or maybe you've learned how to lead groups effectively with Zoom?
Even better—you can charge a lot of money for consulting people on how they can accomplish it themselves.
I bet you have skills you can use to coach and consult other people!
Let's look at three more ways to make money blogging.
#5 Make Membership Programs
If you're passionate about selling a transformation, but you want to create more of a community, a membership site might be an excellent option for you.
And what's great is that no matter what niche you're in, you'll always find people interested in joining you!
Now, here are a few examples of some excellent membership sites in different niches:
As you can see, membership sites are a legit way to make money with your blog AND build a community.
Executing a membership site doesn't have to be hard either.
If you're ready to invest in your business, you can hire a developer to create a membership website for you. Or you can simply use Thinkific to create one yourself.
Easy!
#6: Offer Subscription-Based Content
Another great monetization model is to create a subscription for your blog.
Now, don't go crazy and put all of your content behind the paywall, but do consider offering exclusive content for a monthly subscription fee.
This monetization model might not be as popular as some others on this list, but that doesn't mean it's not worth considering.
A lot of it depends on your audience and what niche you're in, but it can be a great way to monetize.
Let's look at an example:
Mark Manson is an NYT bestselling author of two books and a blogger who offers a subscription to his audience here.
What he offers to his audience is pretty basic:
Extra content and articles from him
Audio recordings of some of his posts
Q&As with him
Mini-courses he created to help improve your life
You see, it's nothing fancy, and it only costs $48 bucks a year, but because his content is so loved, people are subscribing to his exclusive content.
You can do this super inexpensively:
Create a few pages on your WordPress website and use a plugin like Member Mouse to gate the content, done.
Create content that people love, drive traffic to it, and monetize it!
#7: Sell Physical Products
If you're feeling adventurous, another way to make money with your blog is by selling physical products.
There are plenty of options you have if you're looking into selling physical products:
Maybe you're good at sewing, and you can market cute, unique pillow covers.
Perhaps you love thrift shopping, and you want to resell your finds on your fashion blog.
Or you're a talented jeweler and fashion handmade jewelry you can sell on your website.
The options are really endless here.
There are people out there making thousands by selling stickers!
Now, let's look at a formula that will help you begin with the end goal in mind.
The Secret Money Making Formula
What's the magic formula to make money from your blog?
It's pretty straightforward and consists of two main elements:
The "success" Venn diagram
Capturing email and using those emails consistently
The Venn Diagram Formula Explained
If you're not familiar with the Venn diagram, let me quickly explain it:
A Venn diagram shows the possible relationships between several sets of information.
The blogging "success" Venn diagram portrays a simple intersection between the three most important parts of your blog:
You
Your audience
Google
Picture this:
You have a blog about hurricanes because you love everything about this natural phenomenon.
So, you've been writing articles about hurricanes and weather patterns, but you're not seeing that much traffic coming in.
And because of that, there is no way for you to monetize your passion writing about hurricanes.
The reason you're not getting traffic might be for one of these three reasons:
You're not optimizing your content, and Google doesn't rank you high in search.
People are not looking for passionate posts about hurricanes, as they get their weather news from, well, news sites.
It could be both of the above reasons.
If you want to run a successful blog that you can monetize, it has to incorporate all three parts of your Venn diagram:
You: You have to be writing about a topic you know well and like to write about.
Your audience: The posts must be relevant to people looking for the topic you're writing about online.
Google: Readers find your content by doing searches on Google, which ranks your posts and connects you with the audience.
You need to find that sweet spot where you, your audience, and Google meet …
… and blogging success reaches out to you from that elusive, magic space.
How to Discover the Sweet Spot
In short, successfully monetizing your blog is guaranteed when you commit to these two tasks:
Regularly writing useful and keyword targeted blog posts
Consistently sending emails to your list
If you haven't done so yet, you have a few decisions to make.
Here are three questions you'll need to answer:
What is your primary method of monetization (from the options above)?
What posts will you enjoy writing … that Google and your readers will also love?
How will you capture email addresses (and how often will you send emails)?
Don't let this be just another article you read and set aside.
Don't file it away as good information for when you have the time to make these decisions.
Make it happen!
To help you conquer all three parts of the "success" Venn diagram, it's important to have a solid content strategy for your blog.
Click here to find out how to create yours.
Conclusion
Running a successful blog is a lot of work, and making good money is even more work.
But if you're just starting out, the facts are straightforward:
More relevant blog posts = more targeted visitors
… and …
Traffic + Conversions = $$$
It will take time, focus, and consistency, but if you're ready to do the work, you now have the make money blogging roadmap to accomplish your goals.